An interest in foreign policy and innovations led Nugzari Batsikadze from a Bachelor's in Development Studies in Uppsala to the international master's programme International and European Relations in Linköping. A semester of internship is included in the programme and his is being served this autumn in the Office of Science and Innovation at the Embassy in Washington. The Embassy is one of Sweden's largest missions abroad with more than 50 employees.
What do you get to do in your internship?
"My main task is to write reports that are sent home to Sweden. I attend deliberations and hearings in the Senate. We sit in the background and take notes. For example, I was there when Brad Smith, the head of Microsoft, was questioned about what regulations he thought would benefit or disadvantage artificial intelligence in the future.
I write the office newsletter every month and participate in many events that concern our focus areas. Networking and building relationships are an important part of the work."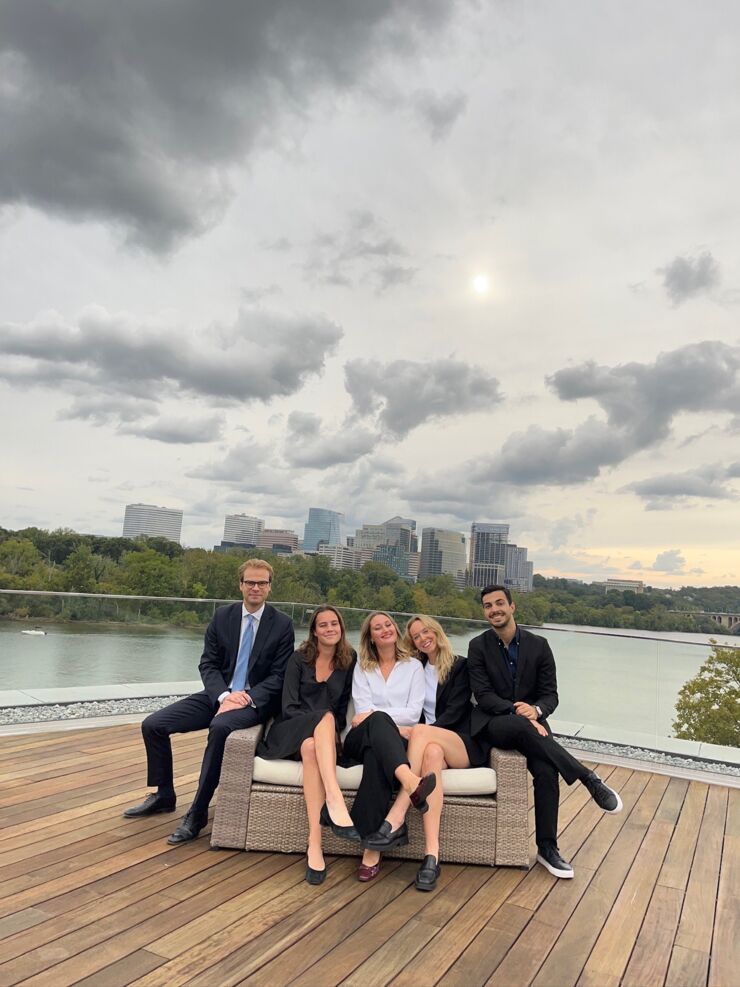 The five interns at the embassy live together and spend a lot of time together. Photo credit Private What's it like living and working in Washington?
"Hectic and great fun at the same time. You can see that a lot of people live here, there are always people out and you can get stuck in traffic for hours. Americans are generally much more outgoing than Swedes and it's more expensive to live, although some things like fruits and vegetables are cheaper.
There are five interns at the embassy, and we live together in a house. We spend a lot of time together and often have dinner together."
How will you benefit from your internship in the future?
"I think I'll benefit greatly from it. Writing reports with as much information as possible in as little space as possible is good practice in identifying what's important. I get to be in an international environment and communicate with people from different backgrounds at events. I'm at the beginning of my internship, so I expect to learn a lot more.
What happens next?
"After my internship, I have one semester left, in which I'll write my master's thesis. I'd like to write about something I work with or find out about here in Washington. Then I'd like to work abroad for a few years, preferably in innovation promotion and operational development, before moving back home to Sweden."
Do you have any advice for other students?
"Don't be afraid to apply for an internship at an embassy. The people who work there are open and genuinely interested in making sure you are happy. The image of the slightly uptight diplomat is absolutely not true."
Translated by Simon Phillips