Rewarding for the students
"It's very rewarding for us teacher students. We get the opportunity to test things on a small scale", says Didrik Florhed.
It is Thursday afternoon at the Cathedral School in central Linköping. The end of the school day is approaching, with the clocks ticking down the minutes of the last lessons. In a classroom in the middle of the corridor, a door stands ajar. Inside are Ebba Mellberg and Didrik Florhed, two student coaches in the Swedish language.
For two hours, all students at the school can drop by and swot up on their Swedish. This collaboration between the teacher programme at LiU and the Cathedral School began at the end of last autumn term.
"It's been great fun so far, and I like the role we have. The students don't need to be scared of us. We're not assessing anybody, and aren't setting marks. They just come to us and we work together to help them", says Ebba Mellberg.
Didrik Florhed agrees:
"Students can come to us with basically any question. This means we get practice in being flexible. It's great being in a school environment like this, and getting to know the students. And we're not being assessed in these situations, like we are when we do internships. So that's nice."
A complement to the internships
Didrik is studying to become an upper secondary school teacher in the Swedish language and biology. He is due to graduate next autumn. Ebba, whose subjects are Swedish and English, is due to graduate this summer. She is also doing her final workplace-based training at the Cathedral School this spring. Taking the chance to become a student coach was a good way to complement her placement.
"The coaches helped me to make the arguments more structured, and to have a good conclusion", Alma Eriksson and Embla Petzén says. Photo credit Magnus Johansson
"There are quite long gaps in the placement periods on our programme, so this was a big opportunity for me to see what I can do and the knowledge that I can help spread", says Ebba Mellberg.
They haven't yet seen long queues of students seeking help. The pandemic may be one reason for that. And the tight time window may be another. The coaches are at the school between 16:00 and 18:00.
Alma Eriksson and Embla Petzén, who are both studying social sciences, have taken advantage of the opportunity – and they think others should do the same.
"I needed help with an opinion piece that was a bit all over the place. The coaches helped me to make the arguments more structured, and to have a good conclusion. We got to ask lots of questions, and got a lot of help", says Alma Eriksson.
Good initiative
Embla Petzén thinks that the collaboration with the university is a very good initiative, and she's trying to spread the word.
"School days are often long. When you're done, you're often shattered and just want to go heme. But I think that if people see that the coaches really help, and that it's worth staying behind, more will do it."
Maria Broberg, the head teacher of the Cathedral School, is the one who got the project going. She emphasises that the idea with the coaching isn't to save students from failing their studies.
"No, we have other structures in place to avoid that. This is for students who really want to challenge themselves and take their learning to the next level. The idea is that students can get help both before and after exams. So we teachers, when we give feedback, can say: 'Go and get help from the student coaches next time'", says Maria Broberg.
Hopes of expansion
Maria Broberg is delighted that the upper secondary school and university are able to collaborate like this.
"Some students get help at home, from mum, dad or their siblings. But others don't have that, so it's great that they can access this kind of extra educational help. As young adults and role-models, the student coaches will, hopefully, get good practice out of it for the future. They also get to build good relationships with others in an environment where they're not in charge.
And it's very helpful when they can alert us to something and say: 'The students ask about this often.'"
The Cathedral school is currently the only one involved in the project. However, Maria Broberg hopes that the project will expand in the future.
"We're mainly pleased that we've come as far as we have, but ideally the project would expand to the whole municipality. That would be truly fantastic."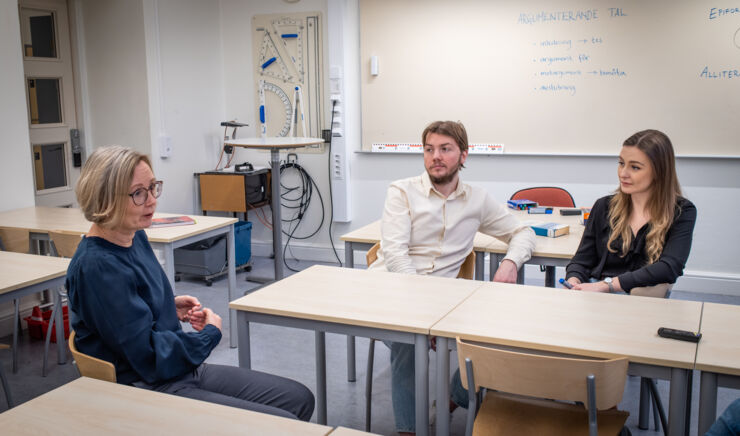 Maria Broberg, teacher at Linköping´s Cathedral school initiated the project with the studentcoaches. Photo credit Magnus Johansson