In a course for a master's degree in applied physics and electrical engineering, material science and nanotechnology, and biomedical engineering, two groups of students have applied their accumulated knowledge and created a potential energy saving kitchen appliance, that improves the air in our homes.
- The task was to improve the indoors air quality in a home environment with a sensor-based prototype and the two groups had two very interesting ideas. Each group has designed, developed, and tested an innovative sensor system prototype for smart monitoring of cooking fumes, heat, and steam, and automated control of a stove hood, in turn of optimizing both system performance and energy consumption. And they have really gone far, says Donatella Puglisi, Associate Professor at the Division of Sensor and Actuator Systems.
In lab 207 in Fysikhuset at Campus Valla, two very different designs for a kitchen fan are assembled. However, the ideas for solving the task are similar.
- There are a lot of dangerous fumes that we inhale when we cook food and we wanted to create a fan that automatically turned on when the fumes had a high level of toxicity, says Tristan Dettke, one of the master's students.
Martin Forsgren and Jennifer Silander are part of the same group, and they explain the design. Sensors inside the fan construction are picking up on particle matter and gases called volatile organic compounds, carbon dioxide and formaldehyde. The sensors are connected to a computer programmed to act when sensing enough fumes, and the fan is started.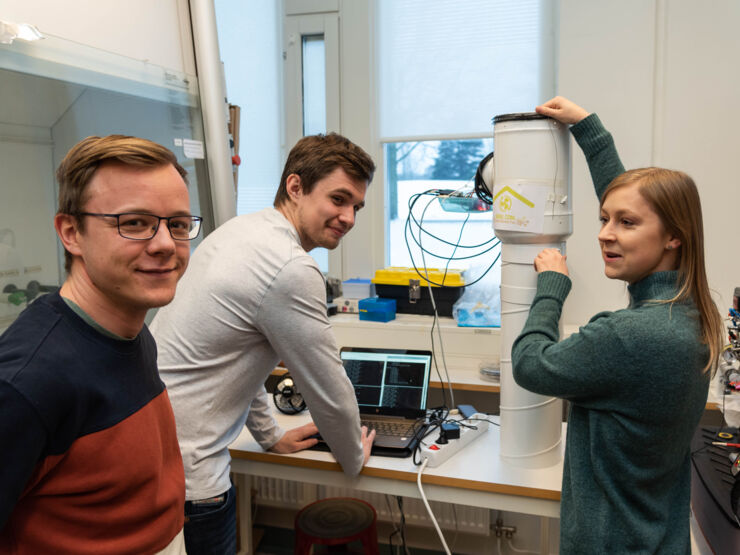 Tristan Dettke, Martin Forsgren and Jennifer Silander have built a cheap smart kitchen fan that could save energy.
- Cooking releases a lot of dangerous gases, and some of them are undetectable. The sensors can detect the fumes at any set value and start the fan. It then shuts down when the fumes are down to a tolerable level, says Jennifer Silander.
The same idea is applied to a different design in the same lab. Where the first group used already acquired skills to program a computer connected to the sensors, the second group used their skills in 3D-printing to create the container for electronics and the sensors. They also use a display that read out the fume levels. It is all connected to the sensors and fan.
- I live in a shared household with seven roommates. It would be great to have a sensor connected to a display that warns us if the cooking is polluting the air, says Bastian Bégon, one of the members of the second group.
Felix Valentin and Linda Skoglund are also in the group.
- The idea is to create something that later could be created with a manufacturer of the kitchen fans. The sensors could then be integrated in the fan, says Felix Valentin.
- We can see how the fume levels change during cooking and the fan turns on. The results then show how the fan gets rid of the dangerous fumes, says Linda Skoglund.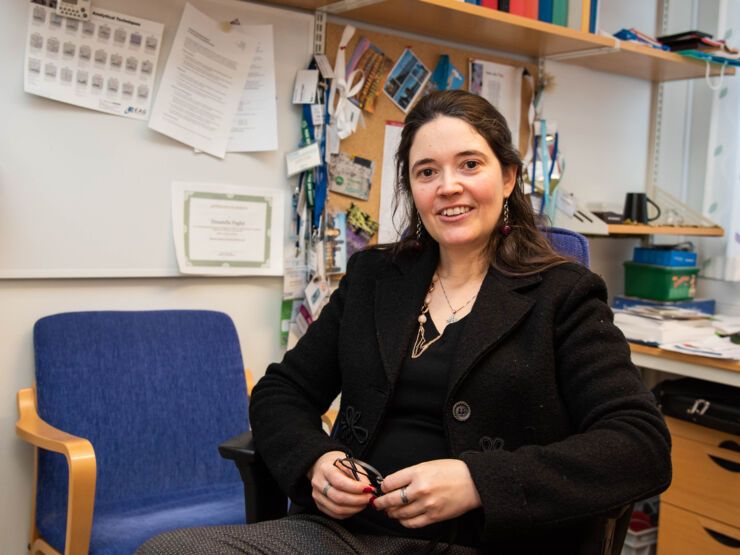 Donatella PuglisiDonatella Puglisi thinks that the pandemic has put a spotlight on our home environment and a lot of people are not aware of how cooking is polluting the air. In this project course the students apply both theoretical and practical knowledge to authentic learning scenarios inspired by everyday life situations.
- That will allow them not only to strengthen their technical skills but also to transfer the findings from their experiments to their personal life, with a direct and effective impact on their attitude and behavior. They are, in a sense, engineering consultants that solve a problem in a creative way, she says. I am very satisfied with the students, this is not just for comfort but also for safety and health, says Donatella Puglisi.
The two groups submitted an Abstract for a conference in Kuopio, Finland, called Indoor Air 2022, and it got accepted. Now they have been invited to submit a full paper. The other participating students are Shiqi Guo, Wuji Lyu, Zaha Mohammadianrasnani, Olivia Grönlund Falk, Märta Håkansson, and Victor Rutberg. Teching the course, together with Donatella Puglisi, is Guillem Domènech, Amaia Ortega, Jose Martinez, and Jens Eriksson.