Watch the The Climate Change Megagame live here.
Ola Leifler and Magnus Persson are distributing orange "Need cards" among several tables in a classroom at Linköping University. Each table has a sign with a place name from the Östergötland region of Sweden: Fornåsa, Motala, Borensberg, etc.
The first trial run of "The Climate Change Megagame" is under way, with the full-scale run scheduled to be played in Linköping autumn 2020. Ola Leifler is head of research, while Magnus Persson is project manager and game designer for this first version.
"A 'megagame' is a large-scale board game that can have hundreds of players", Ola Leifler, senior lecturer in the Department of Computer and Information Science at Linköping University, explains.
"The Climate Change Megagame" takes place in Östergötland. It starts in 2020 and the scenario may run right up until 2100. The participants play various local roles, such as politicians and representatives for the business world. At least half of the participants will play the role of local inhabitants. As the climate changes, they will be faced with new situations and must take difficult decisions.
"One aim of the game is to cause participants to consider how we will have to adapt the way we live in response to climate change. We also want to know more about decision making in a future characterised by uncertainty about the climate. This uncertainty is not just about the physical climate, but also the political climate, where effects such as large-scale refugee movements, and food and water shortages, may have an effect", says Ola Leifler.
One intention of the research project is to investigate whether a megagame is an effective way of passing on knowledge about climate change.
"I hope that the game can be held as a course here at LiU in the future."
This is the first time that a megagame is used for research at Linköping University. Ola Leifler wants to determine whether decision making can be studied using this type of game.
"Do the players gain insight into the significance of climate change? Some members of the project team are experts who have previously studied how decisions are taken in simulated worlds."
Ola Leifler is eager to see representatives for the business world, municipalities and various institutions in Östergötland taking part in the game.
"We are in contact with some companies in the region, and hope that they will decide to join in", he says.
Ola Leifler and Magnus Persson will enlist the help of the Swedish Meteorological and Hydrological Institute (SMHI) to describe climate changes. They will use data from this specialist authority to simulate climate change during the game.
Since as many as 100 people may come to participate in "The Climate Change Megagame", Ola Leifler and Magnus Persson are looking for people to play the game in April, or to participate in the trial runs taking place now.
"Anyone who is interested in participating can contact me", says Ola Leifler.
The final details of the game have not yet been set. The trial runs organised by Ola Leifler and Magnus Persson, in which around 10 people will participate, are a first try to see how the researchers' ideas work in practice.
"We want to find out whether we have designed the game correctly, and so we are inviting folk to play it. It also means that anyone who thinks that 'The Climate Change Megagame' sounds exciting can get involved in the project at this early stage", says Magnus Persson.
LiU seeks volunteers for megagame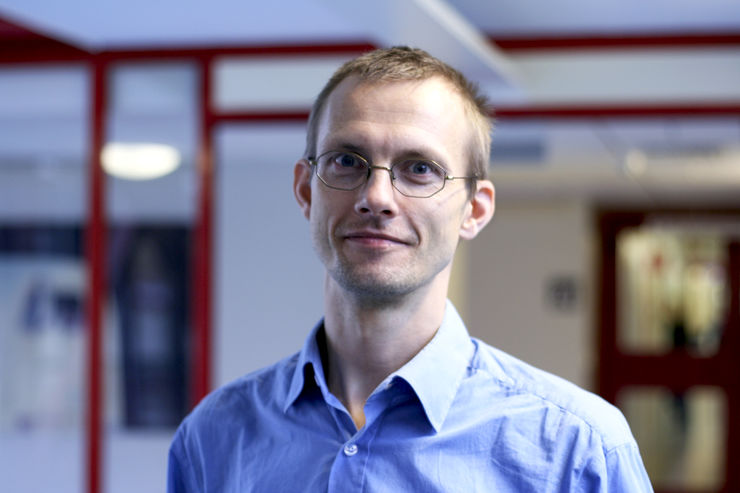 Photo credit David Isaksson
Three questions for head of research Ola Leifler
What is "The Climate Change Megagame"?
Around 100 people will gather here in Linköping in autumn 2020 to play a megagame, a large-scale board game. The participants will take on various roles in Östergötland. They will make decisions as they experience climate change and the way in which it alters the conditions in which society functions.
"It's a research project that deals with, among other things, how people learn. One of the aims is to find out whether a megagame is a good method to provide insight into the significance of climate change.
Who can join in and play the game?
We are looking for both game participants and people to help in other ways. It's great if the players are representatives for municipalities and businesses in Östergötland, and for the county administration itself. But students and anyone who is interested are welcome. We are also looking for players for the trial runs we are holding between now and April next year.
And we need graphic artists and sponsors for the whole project. Feel free to contact us if you want to contribute.
I want to join in. How can I register to participate?
Send me an email with brief info about yourself. You can reach me at ola.leifler@liu.se.
Translated by George Farrants