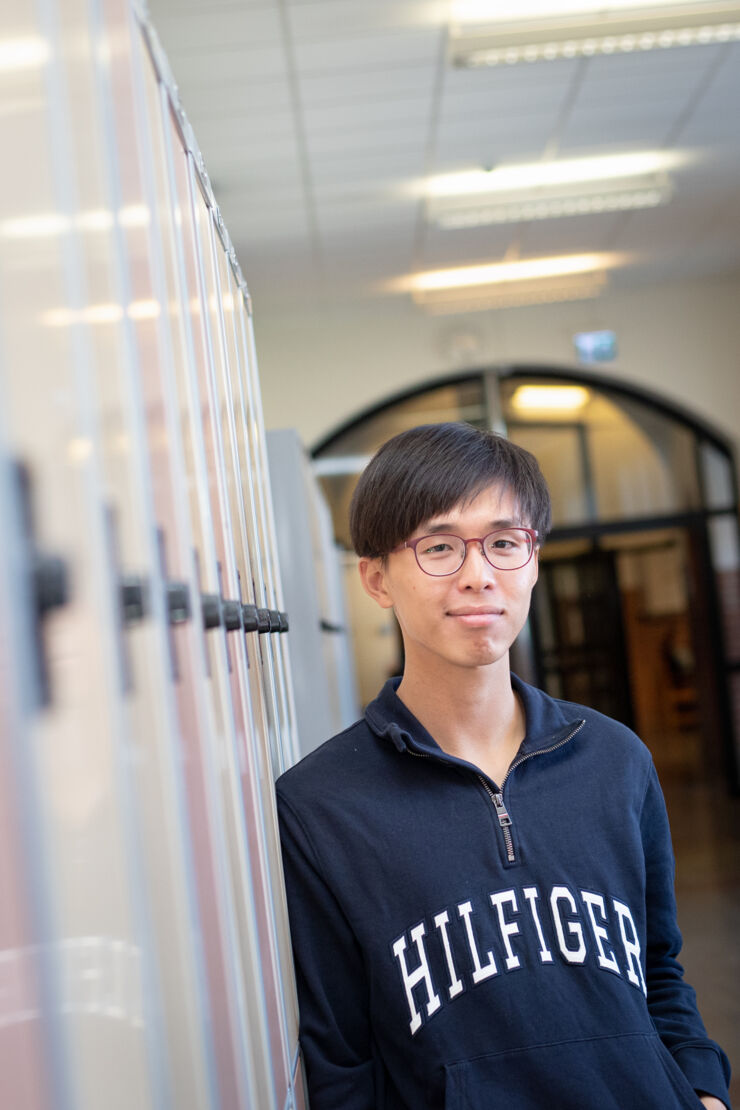 Tristan Chua.
Photo credit

Charlotte Perhammar
Since 2013, Linköping University has a cooperation agreement with Nanyang Technological University and the National Institute of Education (NIE) in Singapore. NIE is one of the world's top ranked teacher education programmes."They want to collaborate with the best teacher education programmes and highlight LiU as an appointed strategic partner. We want to enable students to gain international perspectives, ideas and influences from other school systems. In parallel with this, several exciting research collaborations have developed over the years," says Lena Örnestrand, international coordinator at LiU.
Great enthusiasm
During the end of the spring semester, 17 students from NIE have been in Linköping. Some have taken a course in outdoor education, others have done their first student placement (VFU). One of them is Tristan Chua, who is halfway into his education to become an upper secondary school teacher in mathematics and chemistry, and is currently on a placement at Katedralskolan.
"I've never been so far north before and it's very different from home. It's a bit cold. But it's very nice, quiet, small and cosy. I could live here when I'm old. But not now, I'm not done with the life and pace of Singapore."
Edvin Jensen, upper secondary school teacher in mathematics and physics, is his supervisor.
"It's great to see Tristan's enthusiasm and his interest in how we do things here. For example, he's overwhelmed by our school food and the fact that it's free. And it's interesting to see differences in cultures. I'm an authority figure, he addresses me as "Mister" and gladly opens doors for me."
Teaching after three days
Typically, VFU students shadow at the workplace for at least a week before being given teaching responsibilities. But Tristan Chua wanted to stand in front of the students on the English-language International Baccalaureate (IB) programme at Katedralskolan straight away. He got to do so after just three days. Although this is his first placement, he is used to teaching. At weekends, in addition to his full-time studies, he works as a private tutor – something he has done since upper secondary school.
"I like to study mathematics, but I find teaching it even more enjoyable. I look forward to the weekends more than my everyday university life."
Big knowledge gap
In Singapore, the teaching profession has a high status and the small Asian country often ranks high in international surveys such as PISA and TIMSS. And there are major differences in the school environment and structures compared to Sweden, according to Tristan Chua. In Singapore, there are often around 40 students in each class. The pace is high. From an early age, many students take private lessons outside of school hours.
"There's a greater knowledge gap here between the weaker and the stronger students in the classes. At home, almost everyone is on the same level."
How do you view the Swedish school environment?
"The environment here is more open. Students get the chance to really discover and practice on their own. That's something I'll take home with me, the fact that teachers take the time to walk around in class to help and answer questions.
In mathematics education, the so-called Singapore model, which originated in the United States in the early 2000s and is based on Singapore's mathematics curriculum, has been widely adopted in the Western world – particularly for younger age groups. At the upper secondary level, content is relatively similar between Singapore and Sweden, but there are some differences in the structure of teaching.
"There's more text and more problem solving here. It's a more practical and useful maths, you might say. At home, there's usually a lot of calculations to be done in a short time," says Tristan Chua.
Edvin Jensen has taken a lot from studying Tristan in lessons – and thinks he will use some of it in his teaching.
"Absolutely! When we work with logarithms, for example, it has to become automatic. Then you probably need to pick out tasks and devote a whole lesson to doing them together. I don't think it would work to do that in a Swedish class all the time, but every once in a while."