It's Friday afternoon at the LEAD business incubator in Linköping Science Park. These are busy days for Sam Issa. Meetings here. Trade fairs there. His company Nano Textile Solutions won Sweden's largest innovation award, the SKAPA prize, in 2022 and the hope is that his invention will reach the market in 2023.
Becoming an entrepreneur
After many years, many setbacks and swinging between hope and despair, the dream can now become reality. Sam Issa, who came to Sweden and Linköping as a ten-year-old, looks out through the window and thinks of his life's journey.
Riding boots, that at the touch of a button shape themselves to the customer's leg, provide the first market to test if Sam Issa's invention works. Photo credit Julius Norrbom
"We lived in Ryd when we came to Sweden. I had no idea that there was a world-class university just 500 metres away. You don't know about that when you're ten years old."
Sam Issa comes from a family of tailors and spent many years in the textile industry after finishing upper secondary school. He studied fashion in Italy and worked in most of the links in the value chain through different roles in Stockholm. But one day he no longer felt motivated.
"I wanted to start afresh and get an education that would stand me in good stead. I want to be an entrepreneur that can run all aspects of a company. It was hard to get into LiU, but I quickly raised my grades."
At LiU he put together his own bachelor's degree in economics. He loved life on campus.
"I may be using strong words, but something magical happened here. I had a great hunger for knowledge, I devoured everything. I often went to the handicraft rooms to watch people experimenting with things and met some incredibly smart people."
Recognising sustainability issues
His head was buzzing with ideas he had carried around for years. There must be some way to combine textile and technology.
"The fashion industry is very conservative when it comes to new technology, and I couldn't define exactly what I wanted. And my thoughts on getting data into clothes were seen as abstract."
"At the same time, when I began studying economics at LiU I understood the sustainability issues in the textile industry. It continues using the linear value chain structure.Everything must be done quickly and there is a large global overproduction."
One day he crossed paths with researchers Erik Khranovskyy and Mike Zhybak, doctoral students at the Department of Physics, Chemistry and Biology, ITM.
"They didn't think my ideas were crazy. They said: 'It can be done, Sam.' Then it became clear to me that we have the chance to really create a game changer."
The road ahead was not easy, but after several twists and turns Sam Issa's phone finally rang.
"There were many failures along the way, and I started to lose hope. But one day Erik called me and asked if I could come to the lab. There I saw with my own eyes that the technology works. Then it was just a matter of working very hard to produce a functioning prototype."
Back to the future
But how does the invention work? Put simply, the idea is, with the help of an adapter, to stimulate a smart thread with electricity. Thereafter, a garment will be able to adapt itself to the wearer. The film Back to the Future ll, where the mad professor gets the protagonist Marty McFly's (Michael J. Fox) much too large jacket to suddenly fit perfectly at the press of a button, provides a good reference. The market for riding boots, where the boot shapes itself to fit the leg at the press of a button, provides the first test of the technology. It is hoped that the Swedish equestrian sports chain Hööks will launch the product in spring 2023.
"Using our technology, you can adapt the size of the boot leg to almost any size without ruining the leather. Our technology can also be an important player in the sustainability chain and radically reduce overproduction in the textile industry", says Sam Issa.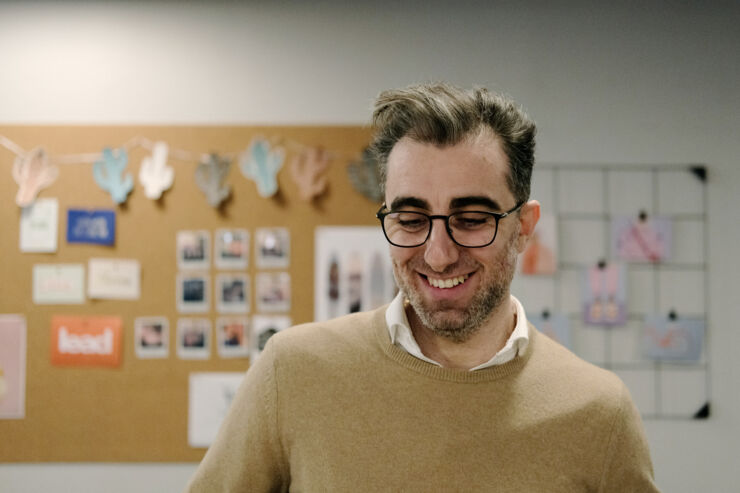 Photo credit Julius Norrbom