"Every child is entitled to know what they are about to go through in a way that they understand", says Gunilla Lööf, initiator of the websites Anaesthesia Web and MediPrep.
The best of both worlds
It's a glorious summer's day in Tärnestad, fifteen kilometres east of Linköping. When Gunilla grew up, her grandparents lived in a small house here, and today this is where she lives when not at her home in Stockholm.
"I have the best of both worlds", she says, pointing to the surroundings.
She smiles broadly. A laugh is never far away. Gunilla Lööf sees herself as a happy but stubborn person. Goal-oriented. Her approach has always been to see possibilities and dare to try new things.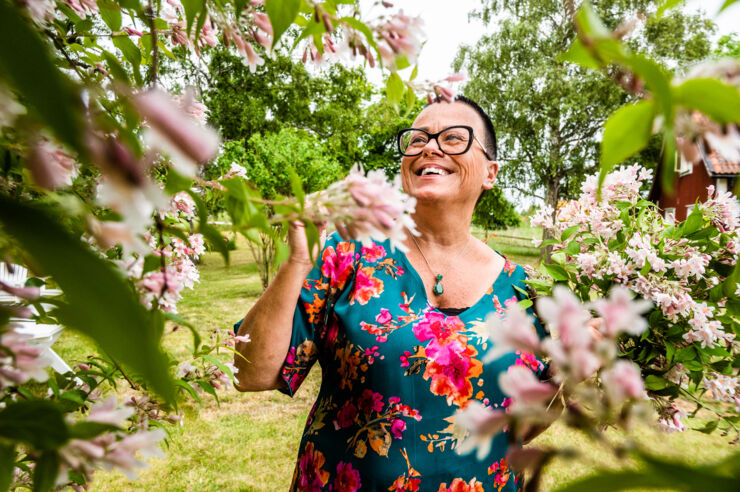 "I have the best of two different worlds", says Gunilla Lööf about sharing her time in the big city and countryside.
Photo credit

Thor Balkhed
"Don't let anyone or anything stop you from doing what you want. If it doesn't work, continue around the roundabout and try a different exit. That's how we learn and progress. But be prepared to work hard to achieve your goals, and remember that you have to enjoy what you're doing."
Own experiences
Gunilla's life journey has many chapters. But becoming a nurse was far from an obvious choice. Despite a secure upbringing – her father was a farmer and her mother a district nurse – she had a problematic relationship with the healthcare system. As a young girl, she ran away, shaking, from an impending operation.
"It was going to be a simple procedure, but no one had told me what awaited me in a way that I understood. In an unguarded moment, I took off and hid behind our Saab in the hospital parking area."
Today she can talk about it as a funny anecdote. As an adult, she sees that her fear of the hospital was based on two events. Firstly, when her grandmother was at the hospital after having fallen, and she heard her mother's voice: "I hope nothing serious happens, I hope she doesn't die." And secondly, around the same time, when a classmate suddenly collapsed during a break at school, and died of a heart attack.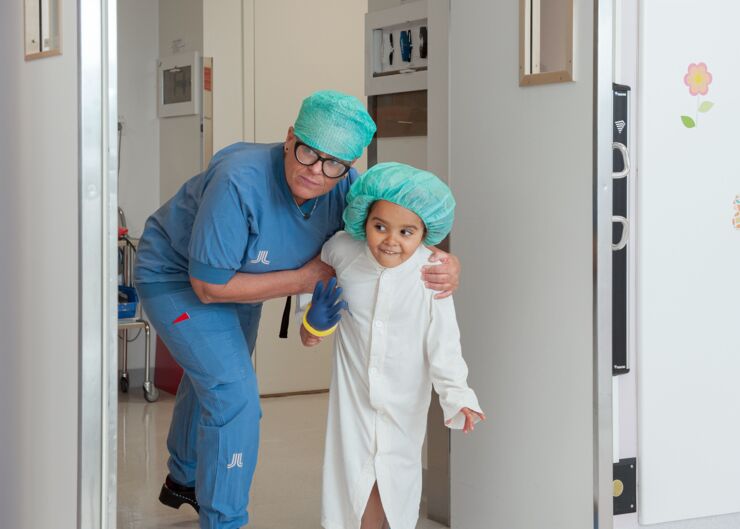 "For me, taking care of a child and a family is the most important and most beautiful thing you can do", says Gunilla Lööf.
Photo credit

Christin Philipson
When Gunilla and her classmates returned to their classroom, the boy's desk has been removed. It was as if nothing had happened, she remembers.
"My encounters with fearful children take me right back to my own experiences. I know exactly what it feels like to be so terribly afraid and panic-stricken. My experiences were the cause of the apprehension, separation anxiety and fear of death that I struggled with well into my teens."
Life lessons
With that baggage, she began her studies in nursing at what was then called the Health University in Linköping in the early 1990s. At that time, problem-based learning, or PBL, was a novelty.
"In the beginning, we thought it was a bit fluffy. But looking back, I don't understand how you can study any other way. PBL prepared me for life, and I am very grateful that I began my healthcare training at LiU."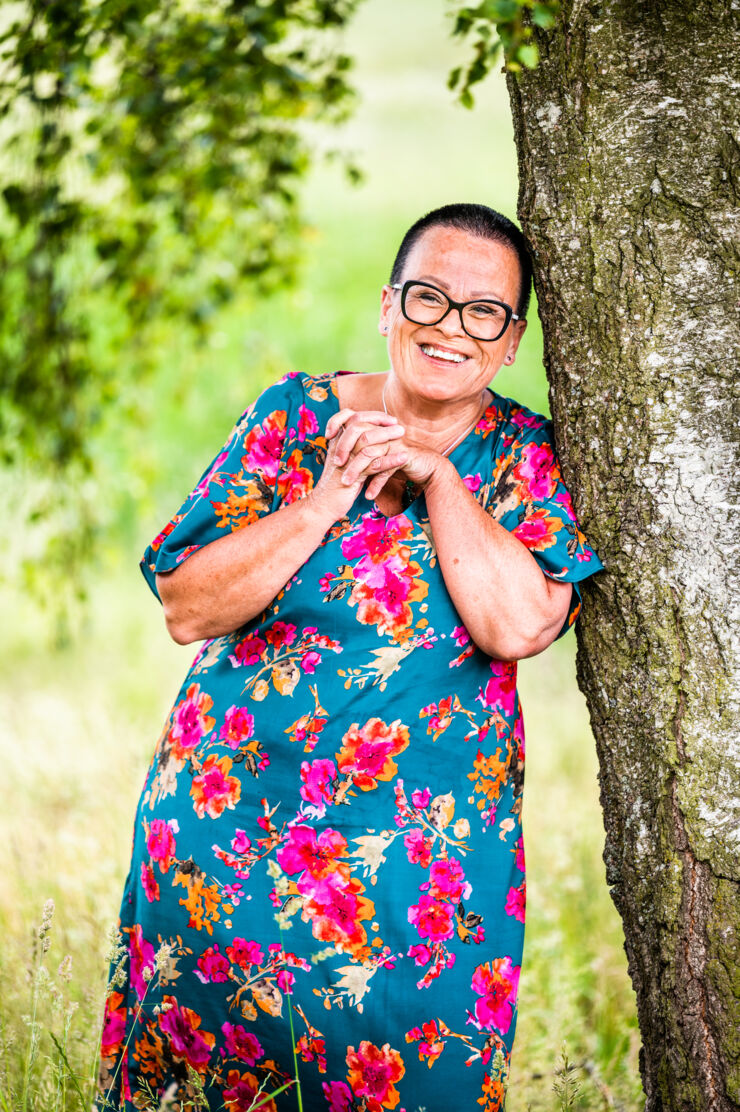 For over 25 years, Gunilla Lööf has worked with the development of medical information for children and adolescents. She has primarily been based at the Astrid Lindgren Children's Hospital in Stockholm, but in fact the entire world has been her workplace. Through her involvement with foreign medical aid, she was one of the founders of Operation Smile in Sweden.
How is it possible?
"My international work has changed my life in many ways. It has made me understand that we humans, despite our different backgrounds, are extremely similar when we end up in a vulnerable situation. This is why I feel such a sense of responsibility every time a parent leaves their child with me, whether it is here at home or somewhere out in the world. This it's what's so beautiful about being a nurse!"
For many years, Gunilla Lööf has fought for children's rights and their need for information prior to encounters with the healthcare system, something which she argues should be standard.
"How is it possible that children and adolescents so often indicate that they are forced to interact with the healthcare system while scared and unprepared? We know that preparation is vital, both to reduce stress and fear prior to medical procedures, in order to facilitate execution, and so that the young people will be in a good frame of mind after the encounter. Children want, need and have a legal right to know what is going to happen – in a way that they understand."
Why is there so little focus on preparation?
"Unfortunately, the knowledge gap among healthcare staff is far too large in this respect. Many of them think that information is unnecessary fluff that can be skipped, in order to save time and money. And often, they are satisfied with only informing the legal guardians, but this is not sufficient."
From 120 countries
Gunilla Lööf has long been convinced that if the healthcare system is to get medical information to children and adolescents, the information must be on digital platforms – in places where they play and learn.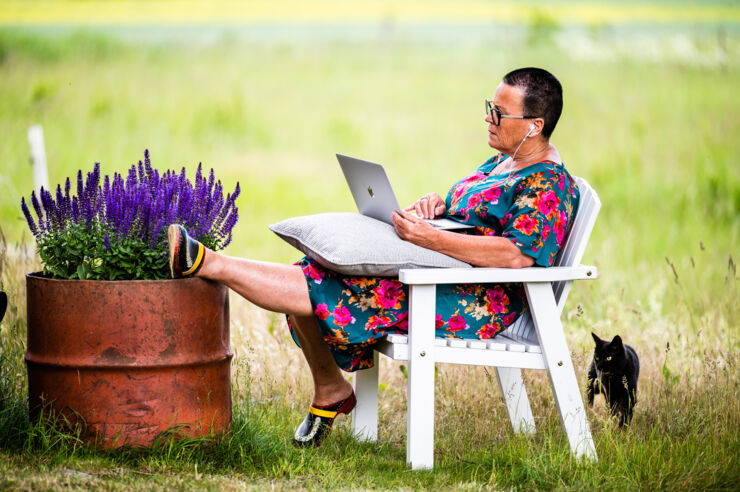 Gunilla Lööf.
Photo credit

Thor Balkhed
"The Anaesthesia Web was a great success. We were pioneers, with a concept that no one else had, and now we have visitors from 120 countries every month."
In October 2022, her next major project will be launched: MediPrep. This project, which like the Anaesthesia Web will be funded by the Swedish Inheritance Fund, began in 2019 when the 1177.se healthcare website drastically reduced information aimed at children and adolescents.
"For children, with children – that's our approach. MediPrep has been developed together with the people it concerns, which gives the concept so much strength and credibility. The aim is that within five years, the site will be internationally established and funded, and will be the primary search engine for children and adolescents when it comes to medical questions."
Gunilla Lööf is quiet for a moment before adding, with a big smile:
"And keeping in mind Nelson Mandela's words, 'It always seems impossible until it is done', I will use all my strength, energy and stubbornness to ensure we succeed with this."