Six white children washing a black child. When Salad Hilowle saw the painting Vanus Labor, something happened to him. He stood for a long time, taking it in. The traditional interpretation of the work, painted in 1690 by the artist David Klöcker Ehrenstrahl, has been that the white children are trying to wash the colour from the black boy. But Salad Hilowle saw something different.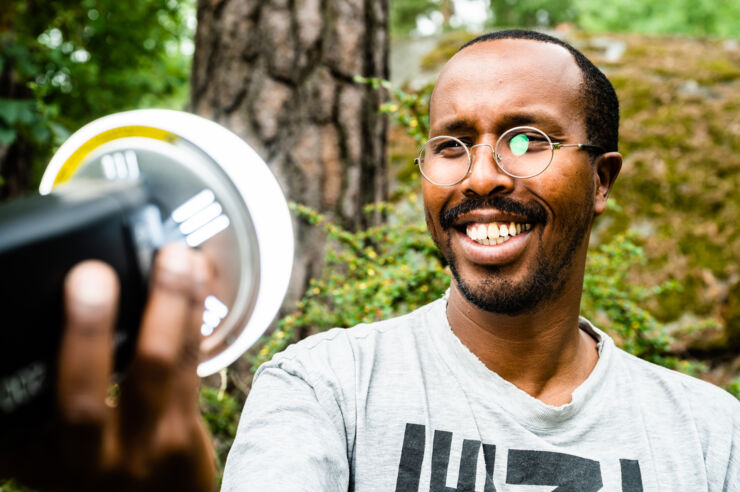 Photo credit Thor Balkhed
"I had seen lots of paintings with black bodies in Swedish contexts, and they are often exotifying, with features and colours enhanced. But what I saw here was a real child – not an idea of a black person."
Despite more than five years of art studies, Salad Hilowle had never seen the painting before. He found this odd, and asked: in Swedish art history, who is foregrounded and who is not?
Afro-Swedes in Swedish cultural history
Then he had the idea for his debut exhibition. He wanted to foreground Afro-Swedes in cultural history, so he began to search through archives to find works where black people are presented. Some of what he found became part of his sculpture and film installation Vanus Labor [Vain Labour], which was exhibited at the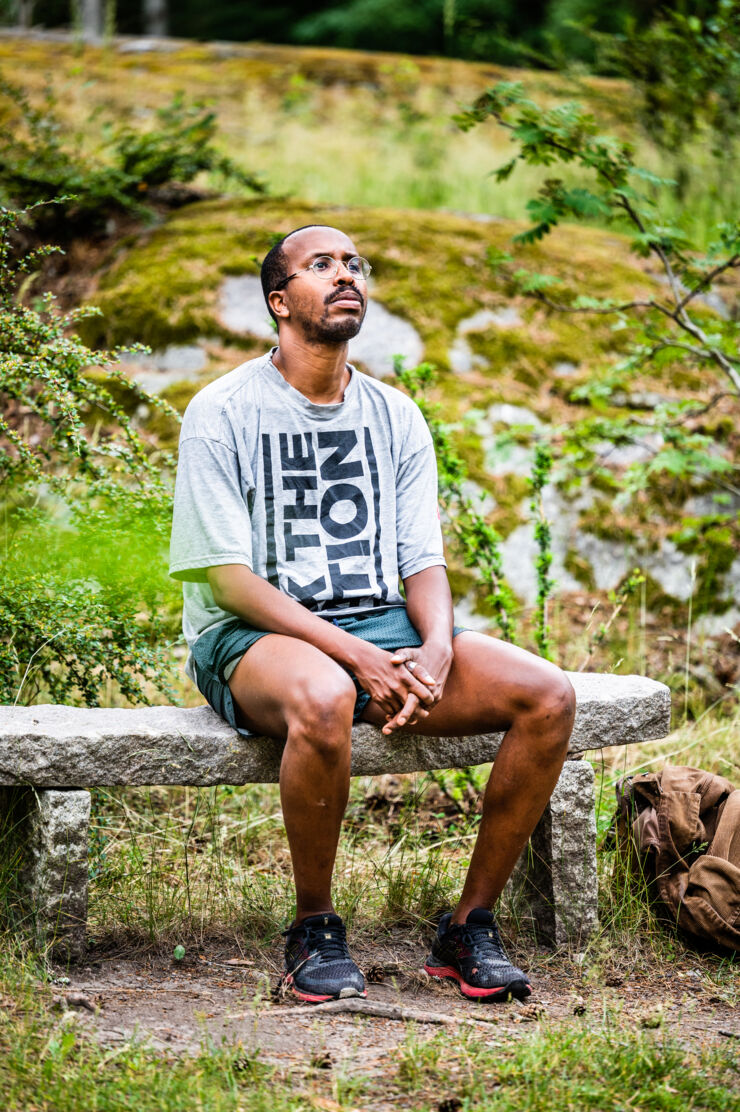 Photo credit Thor Balkhed Royal Swedish Academy of Fine Arts in 2021. The exhibition presented sculpture by Afro-Swedes in the grounds of Ulriksdal Palace, and the first black students at the Royal Swedish Academy of Fine Arts.
"I started to think about who is made visible and who isn't. Inclusion requires that all types of bodies are represented. It's not about removing anything from history, it's about adding perspectives", says Salad Hilowle.
Vanus Labor proved Salad Hilowle's breakthrough with the public, and he has subsequently had numerous exhibitions, including Publikt at the Stockholm House of Culture, which had an Afro-Swede perspective, with clips from Swedish television history. But Salad Hilowle has long been creative. He has produced several short films that received critical acclaim at film festivals, got him nominations for the Guldbagge Award, and millions of views on SVT Play. Even in his previous works, he has explored issues pertaining to visibility, home, identity and place.
New ways to see
"These are big questions, and are best highlighted with a personal narrative" says Salad Hilowle. He wants to see the person behind the prejudices, and to highlight new perspectives.
"As an image-maker, or as an emotional person, I want to push another way of seeing."
"I want to tell about the people behind the prejudices, and say that we should remember the forgotten people and their stories."
Salad Hilowle does this in different ways. For instance in his short film Brev till Sverige [Letters to Sweden], the correspondence between a mother in Somalia and her daughter in Sweden raises the question of what constitutes a home. The film Waryaa depicts Somali men's experiences of Sweden. And in his latest short film, Sylwan, he focusses on actor and boxer Joe Sylwan, who appeared in the 1949 film about Pippi Longstocking and was one of the first black actors in Swedish film.
I want to tell about the people behind the prejudices, and say that we should remember the forgotten people and their stories.
Starting out from his own experiences
Salad Hilowle was born in Mogadishu, Somalia, and grew up in Gävle, Sweden. His artistic practice is based partly on his own experience, from the stories and the people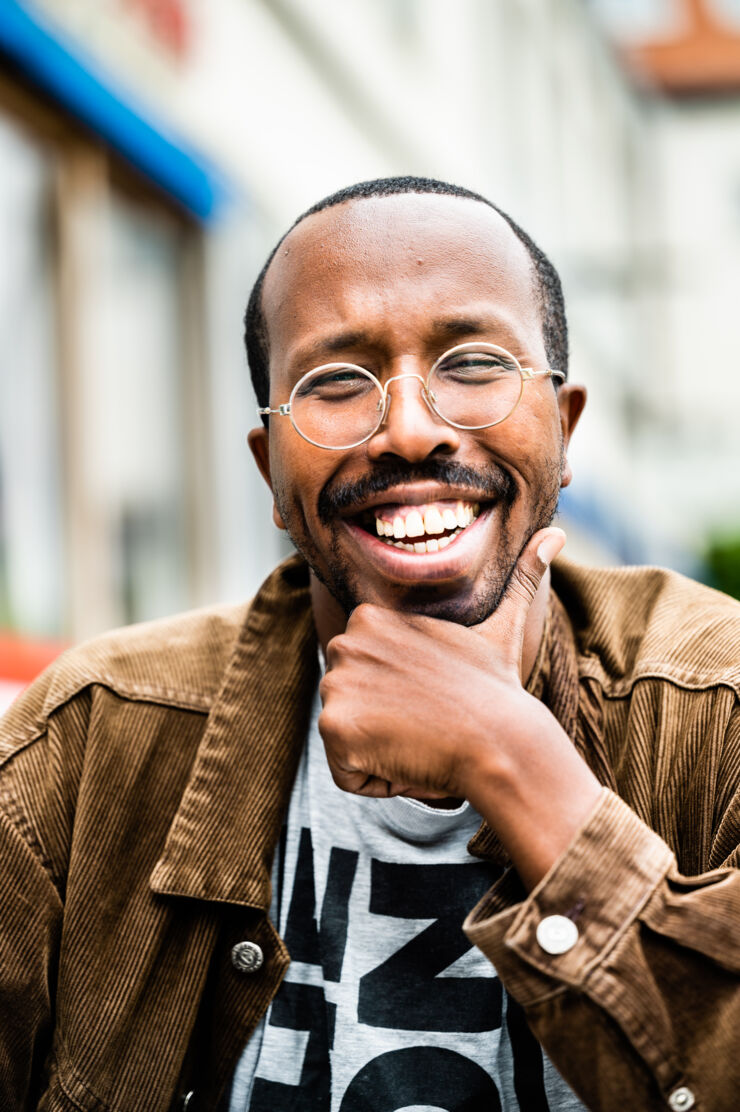 Photo credit

Thor Balkhed
he would have liked to hear and see in order to approach questions about identity and place, and in order to feel that he is part of Swedish history. For this reason, the discovery of the painting
Vanus Labor
was important.
"When I was small, I heard that people of African descent hadn't been in Sweden for very long. But when I saw the painting, I realised this wasn't true. I've asked, what is my place in Sweden, if I am part of the country's history. And the more I explore this, the more I notice that yes, I am part of it."
From film and photography to painting and sculpture
Salad Hilowle shares a studio in Bagarmossen, a Stockholm suburb, with several other artists. It's full of sculptures, paint, fabric, cameras and tripods. Just as he wants to be innovative in terms of the questions he explores, he wants to try out new techniques, and blend different ones. He started experimenting with sculpture and painting during his master's studies at the Royal Institute of Art in Stockholm. While at LiU he began to work with film: he studied a bachelor's programme, Culture, Society and Media Production at Campus Norrköping. A friend in the year above him was into film.
"My friend Henrik Pekkari was super-talented. I learnt from him that a film has so many levels – from graphic design to acting, lighting and sound."
And that the audience should understand it.
"Communication is important – there you can see I'm a graduate of Culture, Society and Media Production. During our studies we talked a lot about what we want to say. This is still important to me because I have to, and I want to, make my art comprehensible."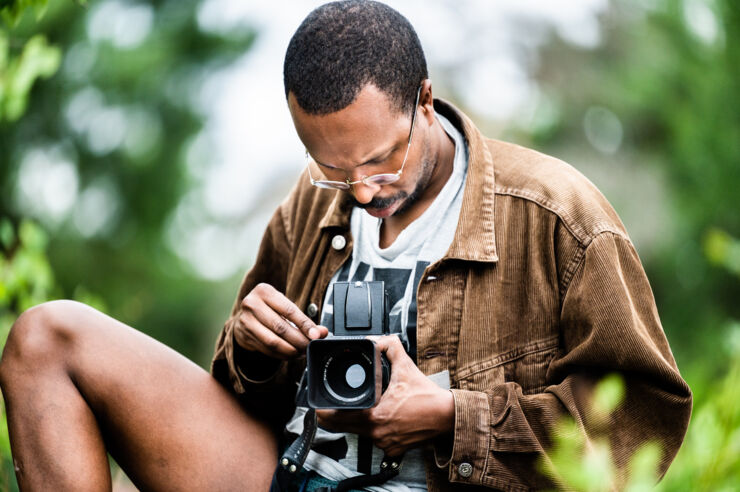 "It always starts with me reacting to something. And then I twist and turn it, process the images in my head. Finally, I get to a point where I decide to make something out of it," says Salad Hilowle about his creative process.
Photo credit

Thor Balkhed
Art's power to bring change
The teachers in Culture, Society and Media Production and Norrköping were inspirational, says Salad Hilowle. But initially, he struggled with performance anxiety, and it still appears occasionally. However now he has found a way to manage it. His compass has been to focus on creating, and daring to explore, experiment, and try new things.
And this, he says, is the potential of art.
"That's what's so exciting about art: it can tackle issues in a different way. My dream is that art will save the world, but it can't. It can't give everyone food on the table, but at least it can get us to think in different and new ways. This is why I believe in the power of art."
Translation by Martin Mirko.