Investment with the region
The six associated clinical WCMM fellows selected are promising researchers in an early career phase who conduct clinical research and have a connection to Region Östergötland.
"The investment is being made to strengthen clinical research within molecular medicine and the interface between medicine and technology. We have chosen to invest in researchers relatively early in their career as we see this as strategic," says David Engblom, Director of WCMM-LiU.
The steering group at WCMM-LiU has selected from a number of candidates presented by clinical managers in Region Östergötland.
The research package
Each candidate will receive a two-year association of SEK 500,000 per year with the possibility of an additional extension of two years. That is to say, one plus one million kronor. The availability period for the first two years of funds (one million) ends in 2025. If a further two years (one million) are granted, the period will be extended to 2027.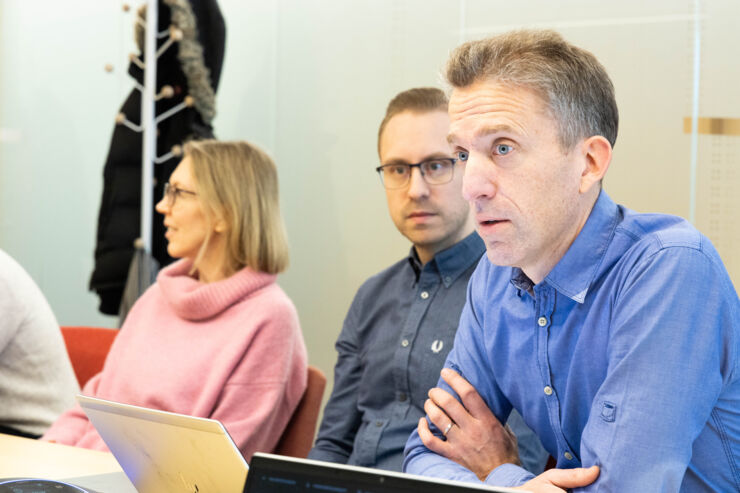 David Engblom (on the right) is chairman of WCMM-LiU. To his left are Fredrik Iredahl and Ida Blystad, associated clinical WCMM fellows. Photo credit John Karlsson At least 30% of their time is to be spent on research, which will hopefully enable them to make progress.

"The result I hope for is that the researchers involved in the initiative will have better opportunities to research and have a network locally and nationally that enriches their research. We hope that they will become influential research leaders who make exciting discoveries and can strengthen both Region Östergötland and Linköping University for a long time to come," says David Engblom.


Promising researchers
The six researchers selected as associate clinical fellows are Ida Blystad, Fredrik Iredahl, Hanna Israelsson Larsen, David Kylhammar, Patrik Nasr and Daniel Wilhelms.
David Kylhammar, resident physician at the Physiological Clinic, is grateful for the opportunity and looks forward to being part of WCMM.
"It feels great to be selected as one of WCMM's associated clinical fellows, and I hope that in addition to the financial contribution, which of course will be of great benefit, as a member of the WCMM network I'll also get the opportunity to meet and get to know new colleagues both in Linköping and around the country. This can be both inspiring and perhaps lead to fruitful research collaborations."
Read more about each fellow below.