"Pitching their ideas in front of an audience means real-world experience for the students, and they get to meet people from the ESBR network, which can help them in the future", says Cia Lundvall.
Smart solutions
Cia Lundvall is a facilitator at InGenious, an interdisciplinary project course that gives eight credits and runs for one term. The course uses challenge-based learning, which means that the groups work with real-life challenges from external actors. This spring, the students were tasked with finding smart and sustainable solutions to challenges from Oskarshamn and Österbymo municipalities. At the end of each course, the student groups pitch their solutions, and this time it was to a different type of audience – a panel of ambassadors from East Sweden Business Region (ESBR). ESBR is a regional network made up of some 50 organisations, including LiU, Region Östergötland, Almi, Lead, Nyföretagarcentrum, and Linköping and Norrköping science parks.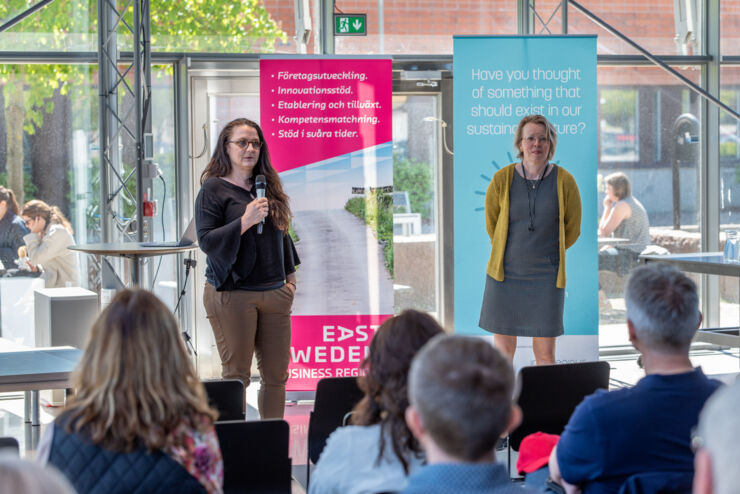 Photo credit Magnus Johansson
"The students invest huge amounts of energy and work in the pitches. It's great that they get to do them in front of an audience this way. Many of the people who have completed InGenious say the course has benefitted them greatly and will stay with them for a long time", says Charlotte Norrman, course coordinator for InGenious.
Like Dragons' Den
The event, which was held in the Zenith Building at Campus Valla, was titled "A bit like Dragons' Den, but not really" – a reference to the TV show where entrepreneurs solicit capital and support from investors.
During the second part of the afternoon, Student Innovation by LiU took the stage. Student Innovation by LiU is a venture at Linköping University that began just over a year ago, from which students can seek support for developing their ideas.
"Any student can bring their idea to us, whether they have had their idea for one day or three years, whether they have developed it in a course or just come up with it at home. We function as a support system to help the students develop their idea, network with the right people, and prepare them for the next step", says Oliwer Schultz from Student Innovation by LiU.
Stanford method
When the students affiliated with Student Innovation by LiU presented their innovations, which ranged from theft-proof bicycle storage to a new marketplace for DYI products, the panel members from ESBR gave their feedback using the Value Creation Forum (VCF) method. The VCF method, developed at Stanford University, is a way of delivering feedback that is used in numerous business courses at LiU. In short, the panel members put on different-coloured caps and glasses, which indicate the different types of feedback they are to give, e.g. investor, opportunities, problems, customer, overall, etc. This ensures that the pitches are critiqued in a helpful and constructive fashion.
"VFC is a good way to give structural feedback. We work a lot with experience-based teaching; the students learn what it's like to step into the entrepreneurs shoes, not just read about what entrepreneurs do. This way the students can get experience and skills in idea feasibility analysis which they can use in their future working life", says Charlotte Norrman.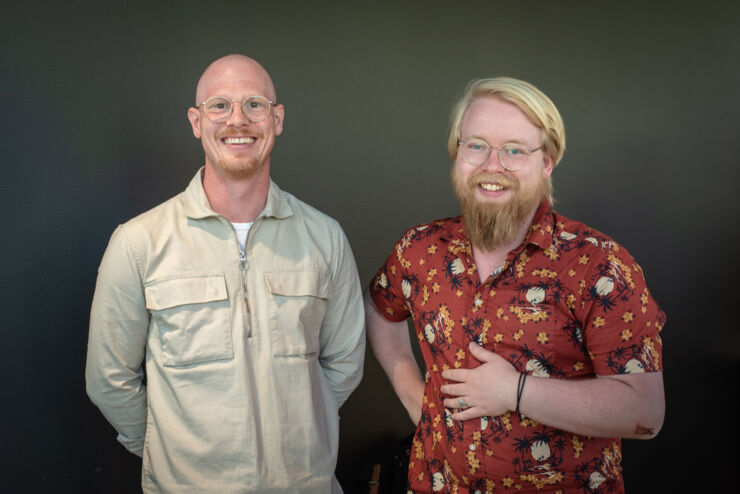 Photo credit Magnus Johansson
After the pitches, the ambassadors discussed in groups how the regional network could support the students, and what they should think about if they are to continue developing their ideas.
"This was the first time we combined different types of collaborative meetings, and we hope that we can have more of them in the future. It would be especially valuable for the students who are in contact with Student Innovation by LiU", says Cia Lundvall.