Uppsala was recently named global winner of WWF's 2018 One Planet City Challenge, in competition with 132 other cities all over the world.
"The jury was particularly impressed by our ambitious and clear climate objectives, which we have arrived at through scientific considerations together with the university. It also pointed out that we have one of the best biogas facilities in the world, and it was biogas in particular that aroused the interest of other participants at the awards ceremony", says Maria Gardfjäll, previously deputy mayor in Uppsala for the Swedish Green Party, and now member of parliament.
Uppsala Vatten is planning to invest more than SEK 100 million in the coming years to extend the biogas facility and build additional gas pipelines. A facility to fill the gas into pressurised tubes for transport to other parts of the municipality will be completed in 2019.
"The regional buses currently run on natural gas, but the new gas pipelines from Uppsala Vatten will make it possible for them to run on biogas, says Jenny Lundström, member of the regional executive board in Uppsala.
Lack of filling stations
Only three public filling stations, each owned by a different owner, are available in Uppsala, and all are in the southern parts.
"This is not optimal: we need stations in the north and in Norduppland", she says.
Biogas was previously a subject of political discussion in Uppsala, but now there is unanimous support for the investments, even though biogas is not the only alternative to be used on the way to achieving fossil-free transport in the municipality.
"We need a full range of fossil-free fuels if we are to become totally free of fossil fuels", says Johan Laurell, head of the waste management division at Uppsala Vatten.
He would also like to see an increase in small-scale production of biogas in the region.
"Small-scale biogas production based on, for example, manure at large agricultural sites would make a further contribution to creating infrastructure and increasing the availability of fossil-free fuels."
It was initially difficult for Uppsala to secure an economic return from its investment in biogas.
"We couldn't deal with abattoir waste in the beginning, and it was sent to Linköping. We started using food waste in 2003, and rebuilt the facility in 2007. Up to 2011, the biogas facility was an economic disaster", says Lennart Nordin, head of the biogas section.
Klimatklivet
The facility has, however, since then made a profit, and in 2016 Uppsala Vatten received joint funding from Klimatklivet for the construction of a new pretreatment plant, new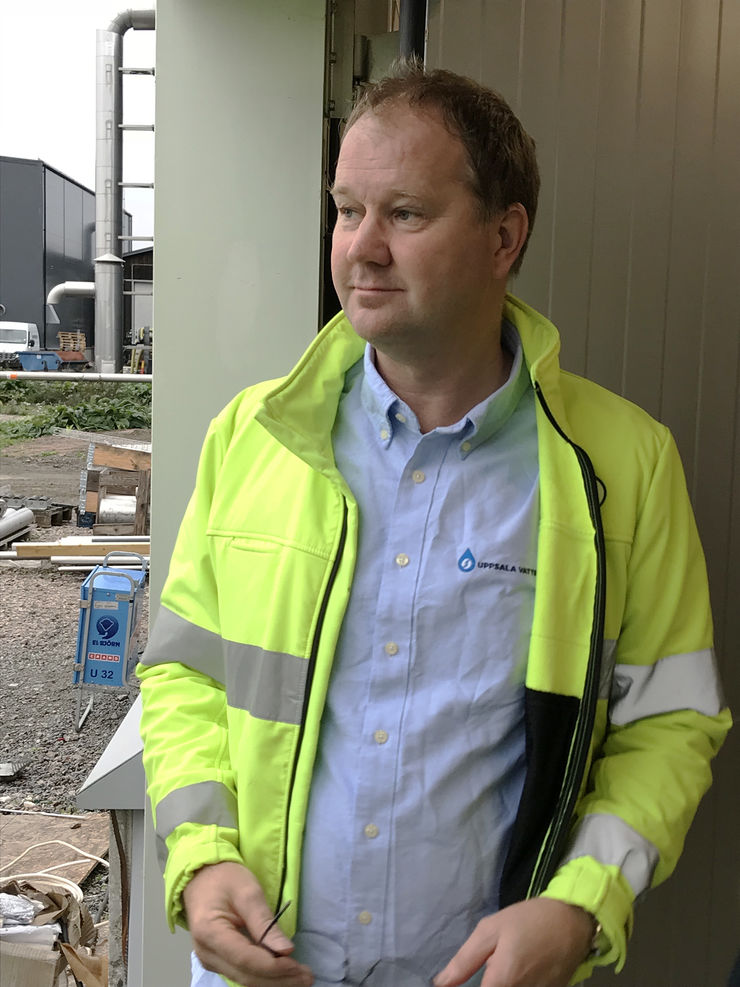 Lennart Nordin
Photo credit

Monica Westman
digester and new gas pipelines. This expansion is scheduled for completion in the autumn of 2018.
Two digesters have been in operation since 2011, supplying 70 buses with biogas, with plans to supply also 40 regional buses.
"We aim to be able to receive 40,000 tonnes of organic waste, which must be unloaded indoors. We can't allow any odour to spread from the facility, since we are so close to the city centre and Uppsala Cathedral", says Lennart Nordin, pointing towards the church towers on the horizon.
Of the food waste collected, 85% is food waste, with the rest coming from the food industry and some small abattoirs in the municipality. Initially, normal plastic bags were used for the food waste, but a decision has been taken to replace these with paper bags.
"One bag of waste provides enough fuel to drive a bus 2.5 km, and 10 kg of food waste corresponds to a litre of petrol", says Lennart Nordin.
In Uppsala, the material is sanitised at 70 °C for an hour, and subsequently digested at 52 °C. Plastic is separated out in several steps.
"We don't want plastic spread onto the fields, and it's important that we win folk's confidence. We'll probably take a further digester into use in the coming five years, and we aim to deliver gas to public transport in the city and the region.
Selling the gas has never been a problem", says Lennart Nordin.
Translation George Farrants