The programme in Östergötland, hosted by County Governor Carl Fredrik Graf and the German ambassador to Sweden Anna Prinz, focussed on the EU's Green Deal and what the Östergötland region can offer for freedom from fossil fuels and a circular economy. Agriculture in both Sweden and throughout Europe is facing huge challenges, and this had stimulated intense interest in the Vinnväxt initiative Agtech 2030 when it was presented at Vreta Kluster. The investment is being coordinated by the Linköping University and its objective is to use digitalisation, sensors and artificial intelligence to give Sweden a leading position within agriculture.
A smart sowing machine
Per Frankelius Photo credit Fotograf Åke KarlssonTo the tones of Beethoven's Fifth (the "Fate" symphony), a completely new sowing machine was presented, developed in a collaboration that included Saab Ventures, the Rural Economy and Agricultural Societies, and Linköping University, under the auspices of Agtech 2030. The machine makes it possible for the farmer to sow crops precisely, without getting out of the tractor. Controls inside the tractor allow the distance between seeds and rows to be regulated with high precision, depending on the crop to be sown and the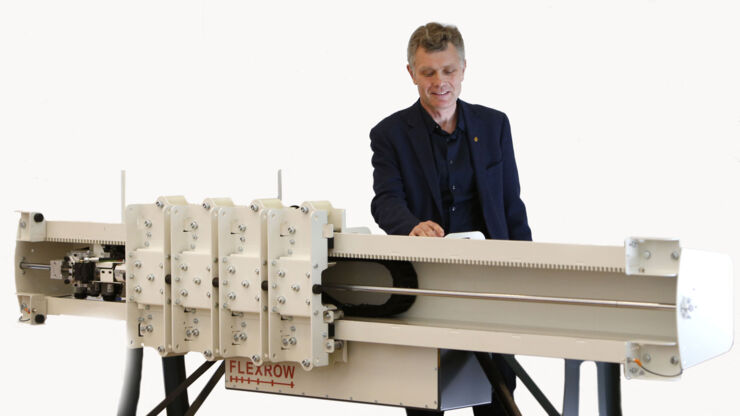 Magnus Landberg demonstrating the new Flexrow sowing machine. Photo credit Fotograf Åke Karlssonproperties of the soil.

"We have developed the sowing machine, which is based on simple hydraulic components, at the Division of Fluid and Mechatronic Systems, FLUMES", says Magnus Landberg, who divides his time between Saab and an industry-based doctoral student position at LiU.

Per Frankelius, process manager for Agtech 2030 and docent in business administration at LiU, took the opportunity to argue that the division into organic and conventional agriculture should be dropped.
Bioprecision
"This classification belongs to another age: today we must instead talk about agriculture with bioprecision. This means that we combine the best methods from both conventional and organic agriculture with new technology that contributes to increased food production, increased biological diversity, and increased carbon sequestration", said Per Frankelius, who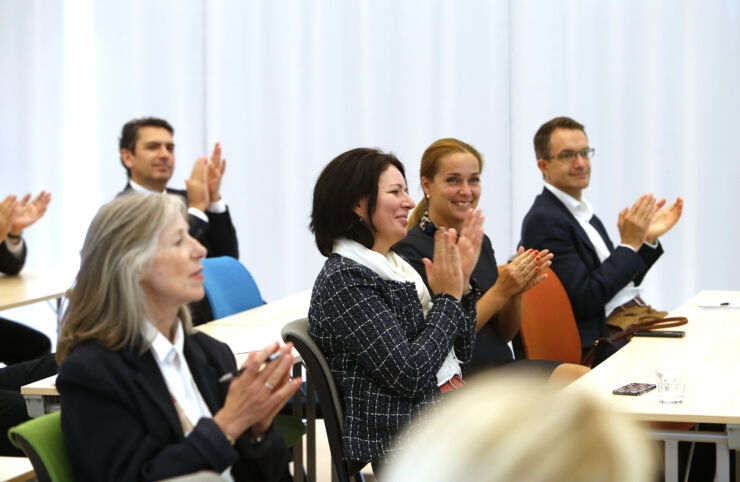 The EU ambassadors applaud Frankelius' presentation. Photo credit Fotograf Åke Karlssonreceived warm applause at the end of his presentation.
Visualization Center C
Earlier in the day, the ambassadors had visited Visualization Center C in Norrköping for a programme that included a talk about industrial symbiosis from LiU professor Mats Eklund, professor of environmental technology and management; and a demonstration of the dome, guided by Professor Anders Ynnerman.