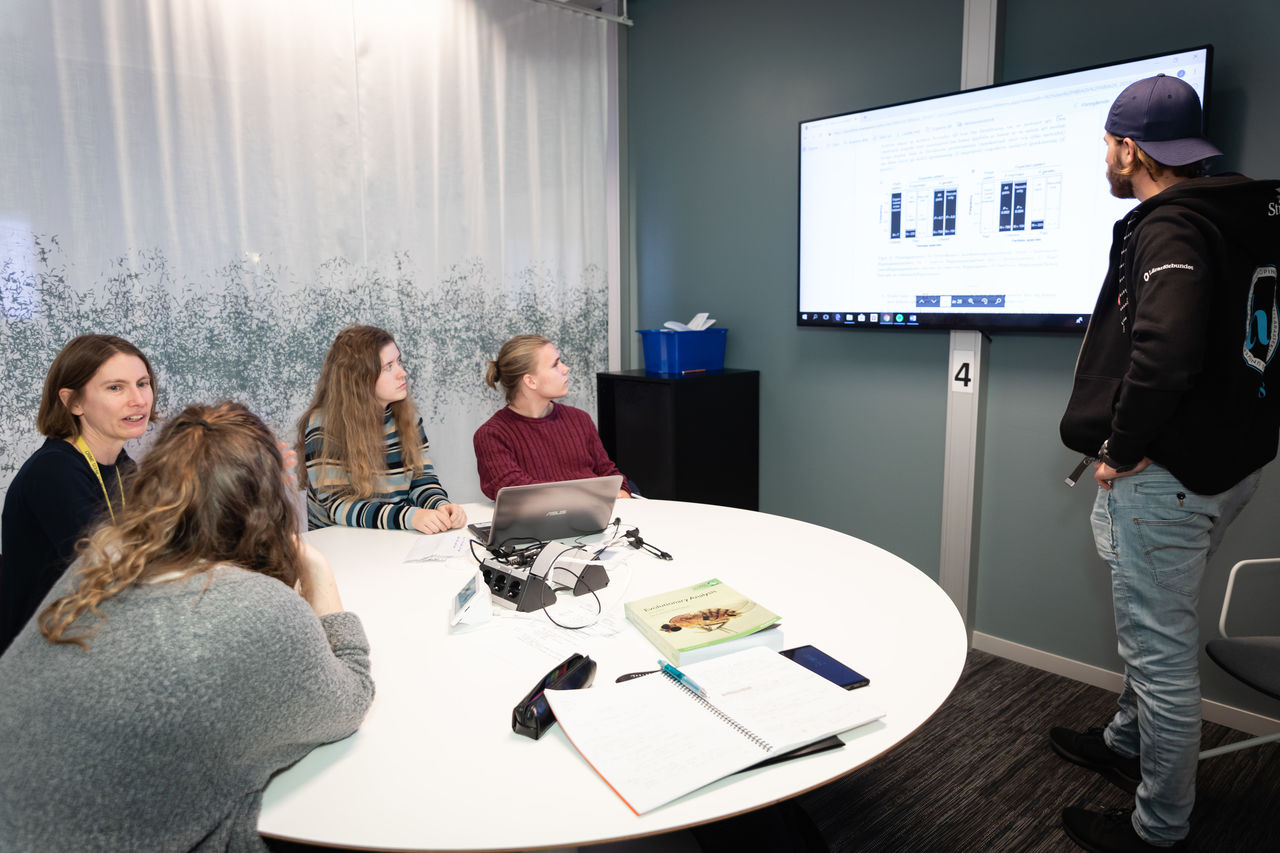 In the Linköping University course in evolution, future biologists and students planning to become upper secondary teachers study together. Photo credit Anna Nilsen
It's a large room, but it's far from the traditional idea of a lecture theatre with fixed seating and a teacher in front of a whiteboard. The new active learning classroom at Linköping University is admirably suited for courses in evolution. The air is full of intense discussions on the Monday we visit. The students are sitting at six round tables and viewing images on display screens, pointing and comparing. A sharp trill is heard above the background buzz of voices. It comes from a mobile phone, which is being used to help compare the calls of two closely related species of bird.
Students majoring in biology are mixed with students studying to become biology teachers in upper secondary schools. The students of teaching have already taken a couple of terms of their programme, and have taken several courses in biology. For the biology students, on the other hand, this is the first course of their programme, which they have just started. Jenny Hagenblad, associate professor in biology and course coordinator, describes several positive effects of students from different programmes studying together.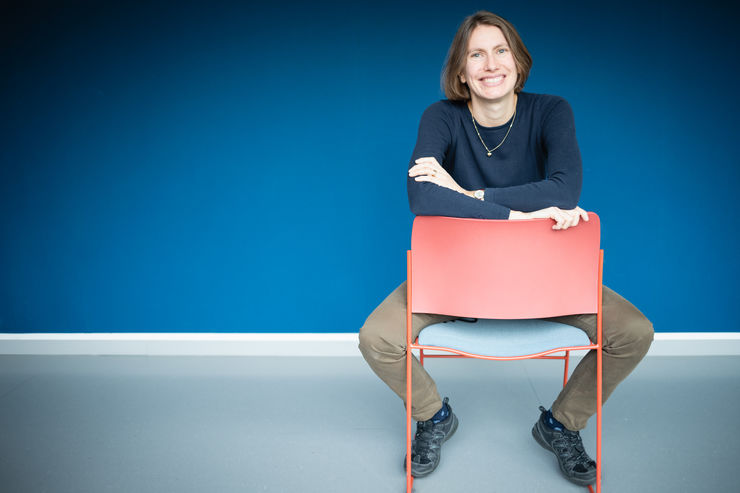 Jenny Hagenblad, Associate Professor Photo credit Anna Nilsen
"The students of teaching have already taken a course in genetics, and it's very useful to understand genetics when studying evolution. It's a good chance for them to practise teaching skills, when they explain things and contribute to dynamic group discussions", she says.
Biology major Carl Bogstedt has learnt a lot from studying together with students of teaching.
"They help us find new ways of thinking, since they have already studied similar subjects and have more experience of studying at university."
"Well, it's great fun for us as well. Remember, this is what we plan to do for the rest of our lives, so it's useful for us to have prior knowledge and have the opportunity to practise supporting others in their learning", says Sanna Svanberg Risberg who is studying to become an upper secondary teacher.
New approaches
Most lectures in evolution were removed three years ago, when Jenny Hagenblad redesigned the course. She felt that lectures were an inefficient method of teaching, and wanted to test a new approach. Today, the students read the course literature first, and then meet in small groups. They work together to get to grips with what is important and discuss things that they don't understand.
"It's extremely exciting to come into the classroom and see what the students have written on the whiteboard. I present their points to the complete class in an improvised mini-lecture. That's when I also go through any parts that they feel that they haven't properly understood", says Jenny Hagenblad.
For each topic that the course covers, the groups are given a group case study. The students initially process the scenario within the group. They then rearrange to form cross-groupings, present their case studies for each other, and join in to answer any overall questions that the case study has brought up.
"I really appreciate the structure with many discussions in small groups", says biology major Johanna Schwarz.
Test their future professional role
The examination has also been reworked. For the biology students, the course ends with a traditional written exam, while the task of the student teachers is to write course material for their future pupils. Jenny Hagenblad hopes that the task will help them find their feet as a teacher, and inspire them to consider how they can use their knowledge of the subject in their coming profession. They also practise evaluating other people's texts, according to a teaching method known as "peer review". The idea appears to be popular with the students.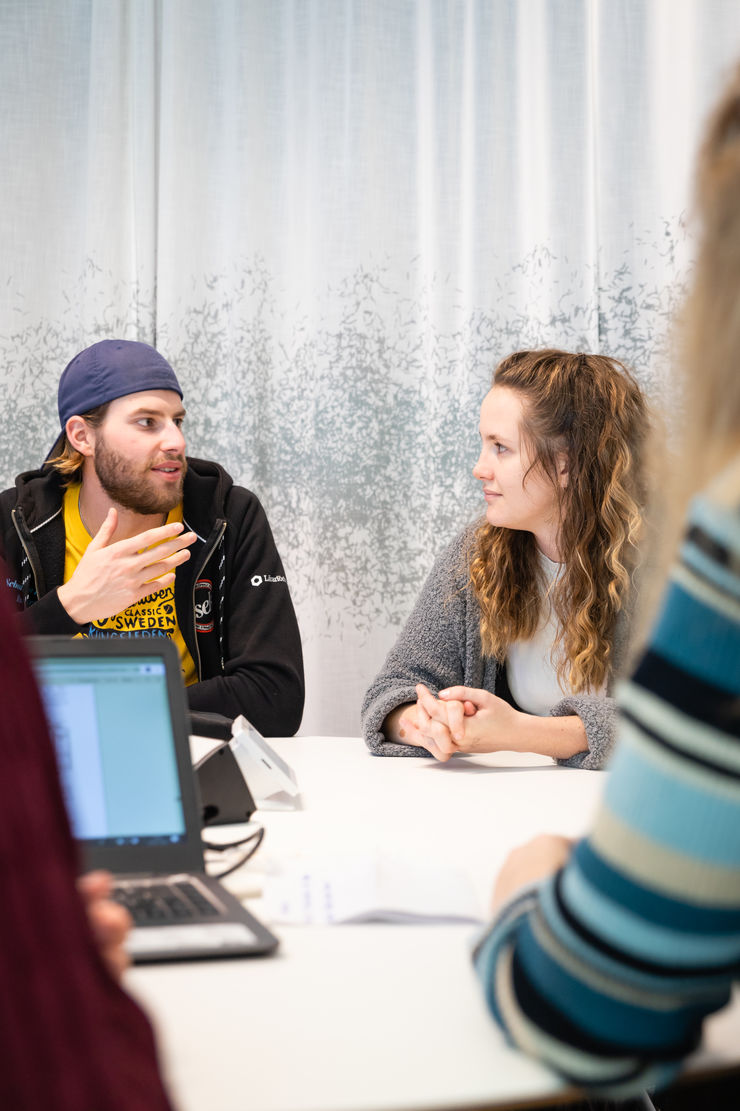 Sebastian Reznik and Sanna Svanberg Risberg Photo credit Anna Nilsen
"It's really great that Jenny has chosen to make two different exams, because it gives us student teachers so much when it's adapted to our education. One really good thing about this course is that we have to write the course material at a level that our future pupils will be able to understand", says Sebastian Reznik, studying to become an upper secondary teacher.
Fellow student Sanna Svanberg Risberg agrees:
"I've been looking for just such a coupling of our education with our future professional life. Ever since I found out that the course has this type of exam, I've been longing to get on with it, even before the course started."

Translation by George Farrants