"I know how many talented teachers there are and I'm incredibly grateful, proud and humbled to win this award", he says.
Leif Burman sinks into the sofa, trying to put words to his emotions. A few weeks has passed since he got the phone call telling him that he will be the second recipient of Sweden's largest teaching award – Ingemars Lärarpris. The award was founded at LiU by professor emeritus Ingemar Ingemarsson, to remind us that teachers are just as important to the university as researchers. The first recipient was mathematics teacher Daniel Carlsson.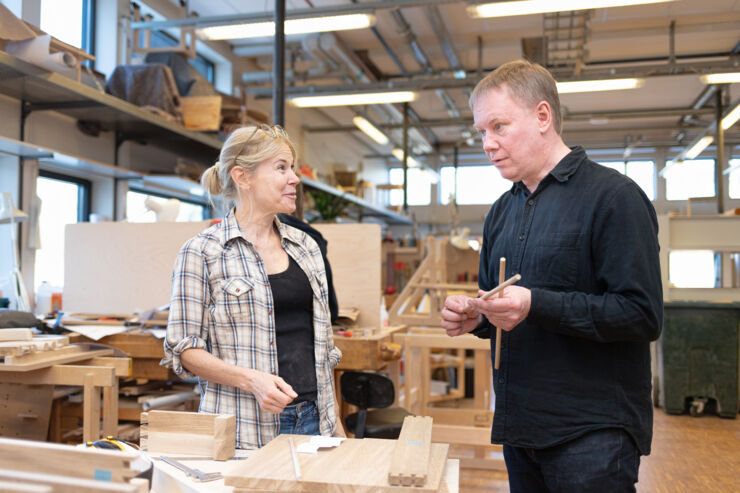 "It's contagious and I try to prioritise the students, see their problems, listen to their thoughts and then solve things together." Leif Burman says.
Photo credit Charlotte Perhammar
"I already feeling a bit light on my feet; I'm walking on my toes, not on my heels. This will strengthen my self-confidence, and I can at least imagine that what I'm doing is a good way to teach things", says Leif Burman.
Becoming a teacher happened mostly by chance. But becoming a furniture maker was almost a certainty. He grew up in the centre of Stockholm, but all his summers were spent with his uncles in the forests of Sörmland. Here he was encouraged to make his own things. If they were going fishing, they made their own fishing rods. When his friends bought speakers, Leif built his. At school, woodworking classes were like heaven.
"The woodworking teachers saw my interest and helped it along. If class started at ten, I was allowed to be there at eight. Maybe I shouldn't say this, but when I was in year five, I was the only one allowed to use the bandsaw."
Sighing cabinets
Leif Burman applied to an upper secondary school that specialised in woodwork. There he heard talk of a lovely exhibition at Carl Malmstens Furniture School, as it was called at the time, located in the Söder district of Stockholm.
"There were fine cabinets that sort of sighed when you open them. A sound that I had started to realise, if it sounds like that, it's really, really good."
About a year after graduating from secondary school, Leif was accepted to Malmstens. The two-year course he took had great impact on his subsequent career. He established contacts and in 1986 was the first furniture maker to win the Swedish Furniture Institute's designer scholarship. He was also head of construction at the major exhibition celebrating Carl Malmsten's 100th birthday. After the exhibition he got work as a substitute teacher at Malmstens, and since then, apart from a few years, he has stayed there. He is a very well-liked and professional teacher.
"Being able to spend time with young people who really want to achieve something is a real privilege. Malmstens is a fantastic workplace."
What is a good teacher?
"I don't think there are any tricks. If you're engaged and you exude that what you're doing really is fun, it'll go well. It's contagious and I try to prioritise the students, see their problems, listen to their thoughts and then solve things together."
How would your students describe you?
"Most of them would probably say: 'This seems to be his life.' That he is calm and that, as a result, they feel secure in asking questions and having divergent views."
Boxes for the king
In 2000, Malmstens became part of Linköping University. A few years later, Leif Burman resigned – but returned in 2008 when the school moved to its current building on the island of Lidingö in Stockholm.
"I wasn't prepared for what the culture shock of becoming part of the university would mean. I didn't understand how to incorporate craftsmanship into this system. But when I returned, it seemed perfect. it's this way, in this setting and with this organisation, that it's possible to advance craftsmanship."
For many years, until 2009, Leif Burman also ran his own business. He was involved with developing the child's chair for the classic Carl Malmsten series Lilla Åland, and produced special furniture and interiors for both corporate and private customers – some more famous than others.
"I made a few things for the Swedish king, which was a lot of fun", says Leif. "For instance, boxes made of walnut, for storing extra-long fireplace matches. The king would take them with him on state visits, as gifts."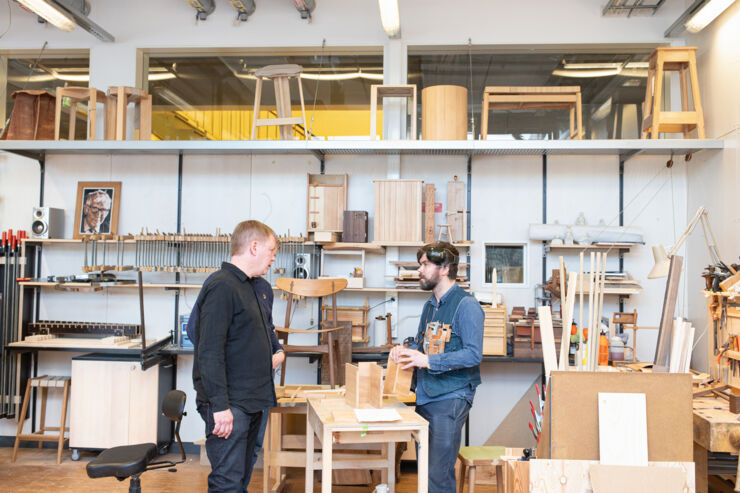 Photo credit Charlotte Perhammar
In recent years, he and his colleague Mikael Löfström have built up a cultural centre in Bodafors, in the Swedish region of Småland. It's a destination that focusses on contemporary Swedish furniture and history, with summer exhibitions, creative workshops and a cafe.
Another of Leif's central interests is Japan – a story that began in the late 1980s when, as a student at Malmstens, he saw small wooden boxes in a window of a gallery in Drottninggatan, a main shopping street in central Stockholm. He fell in love with the boxes and started making similar ones. On a study tour of Japan ten years later, he had a remarkable encounter.
"After some time I realised that the box-maker we were visiting was the master who made those magical boxes I had seen in Stockholm."
A raw model
A few years later, during the time when Leif was not employed at the school, he wrote a letter to the Japanese box-maker, Norio Tanno, asking if he could visit again. This marked the start of a close friendship.
"I wrote that I could sweep the floor or do anything, as long as I could come and learn more of his techniques. I got a reply almost immediately, and stayed there for three months. Afterwards Norio told me that my stay changed his entire approach to the craft, that sharing one's knowledge is the whole idea. Otherwise, in Japan the tradition is that masters should have their trade secrets. Now Norio has a large Instagram account where he demonstrates the processes of all his projects."

You have received this award for your skills in sharing and teaching. It includes a sum of at least SEK 500,000. What will you do with the money?
"I want to use the money to get even better, and for further education. I've dreamt of making a reference collection. Having role models has always been important to me, so if I could find a way to make things that can inspire future students, that would be fantastic."
Leif Burman will receive Ingemars Lärarpris at the Academic Ceremony in November, 2022.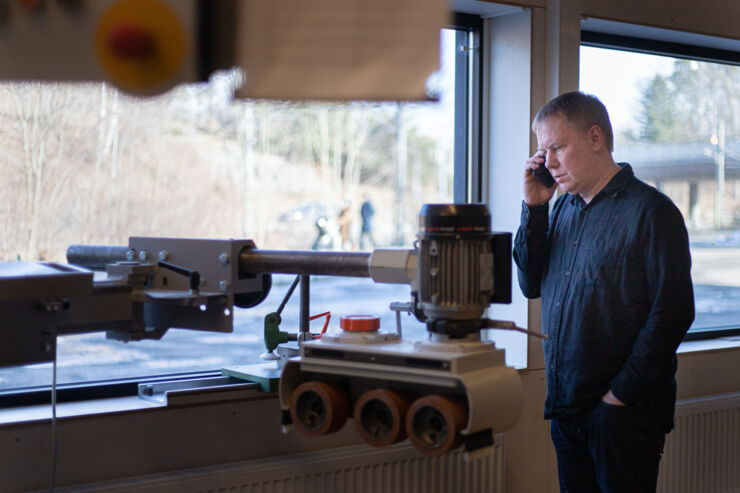 Photo credit Charlotte Perhammar