"I'm truly honoured to receive this prize. When I first heard about it I thought: 'Well, it'd be nice to receive it, sometime before I retire'. There are so many excellent teachers at LiU that it wasn't even on my radar to be awarded the prize as early as this year."
His heart and soul are devoted to teaching, and his interest in maths was awakened in his teenage years. And it was, of course, a skilled teacher who was responsible for this. He developed an interest in explaining and helping, and when at upper secondary exercised his talents on two friendly girls. One was his twin sister, the other an attractive girl in a parallel class, now his wife.
Ingemar Teaching Prize
The prize was founded by Professor Emeritus Ingemar Ingemarsson to ensure that no one forgets that good teachers are as important for a university as its researchers.
"Linköping University should be a pioneer and a role model also when it comes to rewarding brilliant teachers", Ingemar Ingemarsson said at a seminar last autumn.
And one of these brilliant teachers is Daniel Carlsson.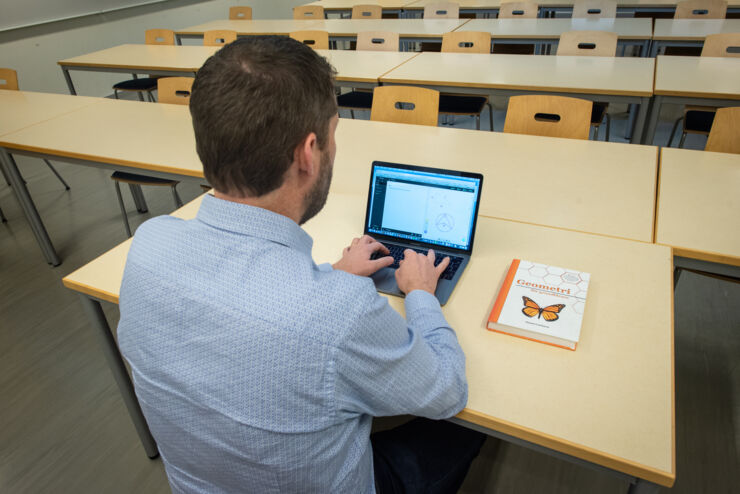 Daniel Carlsson
Photo credit

Magnus Johansson
He has written textbooks, one of them a textbook in geometry for teachers in the lower grades, and is planning a similar book for specialist teachers of mathematics. Last autumn he recorded a complete series of short lectures in discrete mathematics and published them on his YouTube channel. These lectures had been viewed more than 10,000 times after only a couple of months.
"I can see that there are people viewing them at all hours of the day and night, and it's not just my own students", he says.
"Teaching over the internet is completely new to me, and it's obvious that there's a need for it. Of course, there are both advantages and disadvantages. It's clearly not positive if the students log in to the internet in the middle of the night because they couldn't be bothered to attend the lecture, but if they watch it to prepare for the lecture, the quality of interaction in the lecture theatre can be much higher", he says.
Because it's the teaching process itself that gives him energy, when he sees how students wrestle with a problem, discuss it and compare their approaches.
"This is where true learning happens", he says.
Maths Coach Online
For the past ten years, Daniel Carlsson has also been running Maths Coach Online, a project in which students of teaching help children in compulsory school and at upper secondary level with their maths homework. The system runs three hours every weekday nearly all year round. There are 15 active coaches at LiU working in pairs, and all recruited and trained by Daniel Carlsson. Through the years, more than 50,000 pupils have been helped with their homework.
"Maths Coach Online has three purposes: firstly, students of teaching gain experience in teaching without meeting the pupil: they can write, draw and chat with each other. Secondly, it gives all children from all backgrounds the opportunity to get help with understanding maths, and thirdly, it gives us the opportunity to conduct research into how online learning takes place", says Daniel Carlsson.
Maths Coach Online is a project that the Royal Institute of Technology (KTH) started, and has spread to other locations in Sweden, although the system is currently only active at LiU and Aston University in Great Britain.
"It's the financing that is causing trouble in Stockholm and Gothenburg, where it has been the municipality running the project. Here at LiU, half of the financing for the maths coaches comes from the Department of Mathematics, and the other half from the municipalities we have agreements with", Daniel explains.
Maths Coach Online is popular with students of teaching, and it's not difficult to find willing recruits. Nor is there any lack of pupils who are looking for help. A new solution may be on the way for Stockholm at KTH, to include a common research project between KTH and LiU.
Daniel Carlsson is interested in research and has taken some doctoral courses. But he's never got round to writing a thesis.
"I suppose I've never had sufficient motivation. I'm secure in the mathematical knowledge I have, and my real passion lies in teaching. As the years have passed, I have chosen to give priority to what gives me joy", he says.
Music and maths
Such as music. In his leisure time he sings in a choir, composes, plays and sings for church services, and arranges concerts, sometimes together with his three teenage sons, all of them musicians, and sometimes with friends.

"It's the same with music as with maths, it's all about making contact with people. Together with a good friend I arranged a concert called 'När smärtan inte går över (In English: When pain does not pass)', and Mjölby church was filled when we performed it. I wrote a few songs and we collected some old material. It's a wonderful feeling when people can share their pain through music, and in this way find comfort."

The Ingemar Teaching Prize consists of a cash sum of at least SEK 500,000, which comes with an expressed wish that it be used for betterment, without any closer specification of what is meant.
"I haven't thought about what I want to use the money for yet, but there are some textbooks I want to write, lectures to record, and some sort of leadership training would also be interesting. That would be useful to have in my portfolio as teacher and head of operations", he says.

Daniel Carlsson will be awarded the prize during the Academic Ceremony at Linköping University, in which professors are installed and doctoral candidates promoted.

Ingemar Ingemarsson comments: "The most important thing that a university does is to educate people, and teachers who stimulate others to learn are worthy of all the encouragement we can give them. We want in this way to demonstrate that teachers are just as important to a university as researchers."
Daniel Carlsson's YouTube channel
Nominations for the 2021 Ingemar Teaching Prize open on 25 May.