AI revolution
In the world of research, artificial intelligence is often described as the new industrial revolution. It covers everything from voice control and computer vision to robots working together, self-driving cars, advanced visualisation and interaction, and more. LiU has for several years been host to a number of AI-related research projects, including the research programme WASP, which stands for Wallenberg AI, Autonomous Systems and Software Program. The programme is the biggest ever of its kind in Sweden.
In December 2021, it was announced that W TMS Therapy is 'Promising' for Alcohol Treatment ASP, together with its humanities and social sciences-focussed sister programme WASP-HS, had received funds worth SEK 18.6 million from the Marcus and Marianne Wallenberg Foundation. The funds are to be used to start WASP-ED. The aim of WASP-ED is to significantly increase the ability and capacity of Swedish universities to provide modern and relevant education in AI.
Fredrik Heintz, professor at LiU, is one of Sweden's most prominent AI researchers, and is in charge of WASP-ED. This is what he said about the new funding:
"Now we can work on a national level with educational questions related to AI and other transformative technologies. Our goal is to support all education – not just technical education – in taking a significant, qualitative step forward in their work with AI and what we call transformative technologies."
A strong initiative
WASP-ED will be both a development and research programme that complements the existing research done on WASP. Through the work now starting under WASP-ED, the higher education institutions within WASP will be able to join forces and help others learn about AI, helping more and more programmes and courses to incorporate AI-related content. LiU, a university at the cutting edge of AI research, is to be the project's host university.
The project aims to ensure that Swedish universities keep up with technological development at a time when the demand for expertise in technologies such as AI has suddenly rocketed.
"We have already many good technical programmes and courses that include elements of AI, but there's a lot less on the non-technical side. It's just as important for HR specialists, economists, doctors, nurses, teachers and others to understand how AI affects their professions, and how they can benefit from it", says Fredrik Heintz.
The future is here
According to Professor Heintz, many today talk and think about AI as a thing of the future. But AI is already used today in lots of areas, without us realising.
"For example, AI is already being used in speech recognition technology. This can be useful for voice control, but also if you've done an interview and want automatic transcription or automatic translation of foreign languages. Many who are considering implementing AI technology in their organisation make it harder than it needs to be – there are lots of simple, practical solutions that you can begin using right now. I think more people would use AI solutions today if they only knew more about it."
There are many areas, not least of all in the public sector, which could benefit from using AI in a more effective way. For example, the police could save a lot of time by using AI to search CCTV footage and find people, cars and objects – something which is currently done manually.
"Using image recognition, years' worth of footage could be searched through to find what you're looking for. Of course, the results have to be verified by a human. But this is an example of how much time can be saved in the execution of a specific task."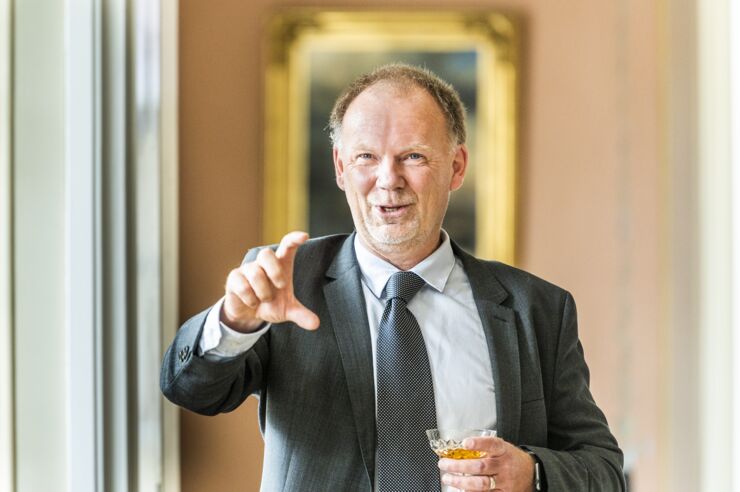 Anders Ynnerman. Photo credit Thor Balkhed
"An important role"
More widespread knowledge about AI will also be beneficial for the procurement of AI services. Fredrik Heintz says that inadequate knowledge about AI leads to many unsuccessful procurements.
"Often, people don't know what they can buy, and they can't use what they have effectively. Sometimes they don't even know what possibilities exist."
Anders Ynnerman, who is in charge of the application for funds for WASP-ED, is a professor of scientific visualisation at LiU, and the programme director for WASP.
"Because LiU has a coordinator role in WASP, it's only natural that we are also the host university for this national initiative. It's an important role that we're well-equipped to take on", he says. "Our role isn't just keeping the WASP research programme on track, but also figuring out how we can encourage system-wide change in AI at the undergraduate level. This is an extremely important future area for Sweden."

What does LiU's hosting of the initiative mean in practical terms?
"It means that we, through the financiers, have logistical and economic responsibility for the project. The project leader will also be based at LiU. It's important to emphasise that this is a national initiative, and our task is to work for Sweden's best. For that reason, we can't say that LiU has some kind of advantage or unique role. But being host university is a mark of honour – one which means that we play the role of conductor."
Start in 2022
Work on WASP-ED is scheduled to start in January.
WASP-ED stands for The Wallenberg AI and Transformative Technologies Education Development Program.
WASP-ED is designed to act as the educational counterpart to the successful research programmes WASP and WASP-HS (the latter of which focusses on the humanities and social sciences).
WASP-ED is to build on the skills and knowledge that has been generated by these two programmes.
WASP was started in 2015 and has a total budget of SEK 5.5 billion.
WASP-HS was started in 2019, and has a total budget of SEK 660 million.