Prototype Realization is a project course in which master students build a subscale, remote controlled prototype of an aircraft. The project course is a direct continuation of an earlier course in Aircraft Conceptual Design where the basic design and analysis was done.
Course director David Lundström is very satisfied with the outcome of the course and the student's response.
-"This course ties together theory and practice. It is meant to provide a good understanding of all aspects of aircraft design. We are always trying to provide the students with an exciting and contemporary real-world scenario from which they start their design process. They then get to go through all the disciplines of aircraft design before they finally build and fly a subscale model. It is one thing is to produce a conceptual design that appears good on the drawing board, but to actually make it fly is a lot more challenging as the students often discover. Besides the aeronautical learning benefits, the students also learn to work with modern prototyping tools such as 3D printing, CNC machining and laser cutting."
David is confident that the experience of working in a team environment with this kind of product development provides valuable skills for working in any branch of the aviation industry, or any engineering field.
Innovative, cool design for single-seat jet aircraft
The aerospace engineering industry requires years of development and also a lot of money to develop a working prototype. But by scaling down the project and physical product, the LiU students managed to complete the task within a few months and with a material budget of less than SEK 3,000. The end product is obviously not on the same level, but the process to get there is the same.
For the project in 2018 the students were given three different tasks to choose from. One of those tasks was to design a single-seat sport jet aircraft around two Swedish-made jet engines in the 700N thrust range. The challenge could be described as designing the ultimate sports car of the skies.
The interest in aircraft led Antoine Bouilloux-Lafont to Linköping, Sweden. He and his group, consisting of Aditya Hanumanth Naronikar, Shravan Vijayaraghavan and Kristian Fodor, took up this jet aircraft design challenge.
- "Our design differs from others because we wanted to show that it is possible to fly an airplane with wings that are swept forward instead of backwards as is most common." Inspiration for their design comes from several aircraft but mostly from James Bond´s tiny jet plane in the movie Octopussy. "We used the same dimensions but made a modern version with advanced technology and new looks."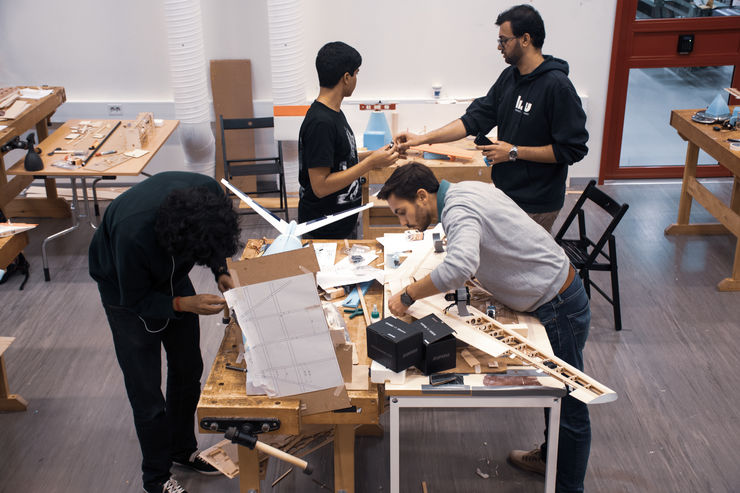 Shravan Vijayaraghavan carefully explains:
- "This is a continuation of the last course where we did conceptual design, calculation and analysis for full size aircraft. In this course we downscaled it and actually built it. The scale is 1:4."
Unmanned aerial vehicle for
humanitarian aid
There were two groups out of eight in total that chose to explore the miniature jet design option. Most of the other groups preferred the task of designing an unmanned aerial vehicle (UAV) for humanitarian aid. This task emphasized the payload (a particular air drop system consisting of a given box, weight and parachute), but motivated the students to find a true scenario from which they could derive their aircraft performance requirements.
Interestingly all groups came up with very relevant and motivating scenarios where UAV´s could be used advantageously for humanitarian efforts.
Sajjan Gundmi Satish and his group members designed a UAV for airdrop delivery of up to 20kg of humanitarian supplies at high altitudes such as in the Himalaya Mountains, the Alps and Nepal. He explains:
- "Our design idea comes from existing vehicle - Boeing Condor, which was developed around 1960 and operated during the cold war. The challenge was that UAVs don't fly that high, they are limited by altitude and range. We wanted to fly high to provide aid to some remote places up in the mountains. Our model can carry much more fuel and we can fly to much further locations to deliver aid. Our design is simplified, so it is easy to put it together, it is easy to manufacture and it is easy to build. It is completely modular, which also keeps costs low. "He estimates that a full scale model would cost under 20,000 kronor."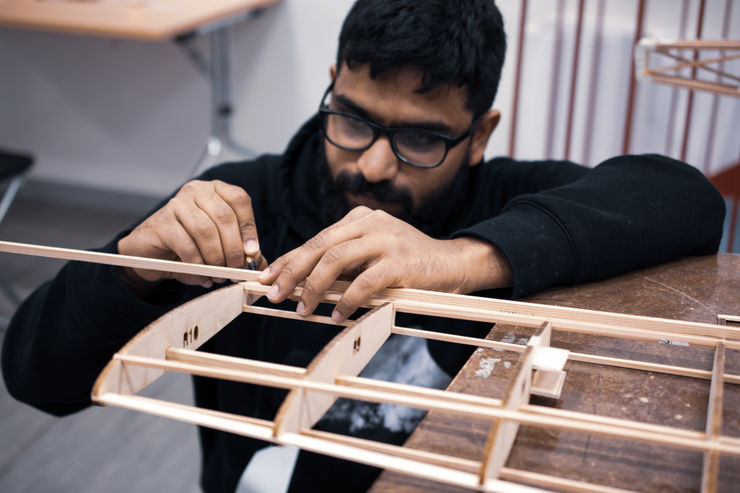 Sajjan is excited to see if all of their hard work will pay off and if their UAV will fly.
- "In India we have this bi-annual air force show that inspired me and captured my interest. In primary school you learn the basic principle but nothing more. I wanted to know more, understand better and choose to do my bachelor studies in aeronautical engineering. Then I wanted to continue my studies in a country where they actually build aircraft. I thought it would be an incredible opportunity and it has been. We have had guest lecturers from Saab, we have visited labs where gas turbines were developed.
This programme prepares students for a career in the aerospace industry, ranging from conceptual aircraft design and aircraft engineering to related fields such as vehicle engineering or wind turbine engineering. Combining theoretical knowledge with practical skills is an important part of education. If you have a dream to design, build and fly an aircraft, then a Master's Programme in Aeronautical Engineering is what you should go for.