The maths coaches sit in pairs at a conference table in the Department of Mathematics at Linköping University, weekdays between 5 and 8 pm. Even during the half-term holidays.
"Lots of people log in and queue to obtain help: it's impressive. I really like being able to help, and we're learning all the time about how pupils think and learn", says Jakob Emanuelsson, soon to qualify as a maths teacher.
He has worked as maths coach for the past three years while taking the teacher programme at LiU, meeting both pupils who have nearly given up and others who are looking for help to get good grades in the advanced courses at upper secondary level. Through the years he has held more than 500 chat sessions.
Elin Svensson hasn't been involved as long, but has held more than 160 chat sessions.
"We're learning a lot that will be useful in the future, such as which topics many pupils find hard to understand and how many different ways there are to learn things", she says.
Important mathematical language
"Some people need more help than others. I try to be careful when I ask questions, so that I can find the right level for the chat. I have also understood how important mathematical language is for learning", she says.
Most questions come from pupils in upper secondary schools, while grades 7-9 are the next highest. A few pupils from grades 4-6 and some from adult education also use the system.
The coaches use a specially developed web-based program in which pupils can be log in anonymously, and that allows not only chat, but also drawing diagrams, writing text and sharing images. The coaches also have a cupboard with all of the most common maths textbooks, which is useful if a pupil has "got stuck on Page 17".
"But we make it clear that we are not a way to get the answers over the internet. And it's important to make this clear when we're visiting schools to tell them about what we do. The teachers must have confidence in us, such that they encourage the pupils to use the system. It can sometimes be easier to ask questions when you're allowed to be anonymous", says Jakob Emanuelsson.
Heavy demand
The service is in heavy demand, and the coaches give priority to pupils from municipalities that have a contract with Linköping University.
"We could be many more coaches; there are so many pupils who need help", says Elin Svensson.

The chat sessions between pupils and coaches are archived, and pupils are told about this when they log in. Maths Coach Online not only gives teachers-to-be practical experience and helps school pupils understand maths: the archived material is also used for research into internet learning. The first licentiate thesis has recently been published at LiU.

"The initiative to Maths Coach Online came from the Royal Institute of Technology in 2009. And the simple and stable web-based program that we use was also developed there", says Daniel Carlsson, assistant lecturer in the Department of Mathematics, who operates the LiU node and recruits new coaches.
Opportunity for talented students
"We ask talented students taking the secondary school teacher programme, and they receive training as coaches here", he says.
It has not been difficult to find coaches, of which there are currently 15. The work is both fun and rewarding, and the extra money they earn is always welcome. Coaches receive SEK 140 per hour.
"It would, however, be good if we could secure long-term financing. The Department of Mathematics currently contributes about half of the cost, and the other half comes from the municipalities that use the service. We enter into contracts with them for one year at a time", he says.

Financing is a problem in Stockholm and Gothenburg, where the project has been run by the two municipalities. Maths Coach Online has now been put on hold in these two cities. In addition to the node at LiU, however, there is a further one at Aston University in Great Britain.

"The project there is well-supported by the university and is seen as a way of recruiting students. If they are already familiar with the university through contact in the Maths Coach, it's a shorter step for them to apply, in particular if their experiences of obtaining help have been positive", says Daniel Carlsson.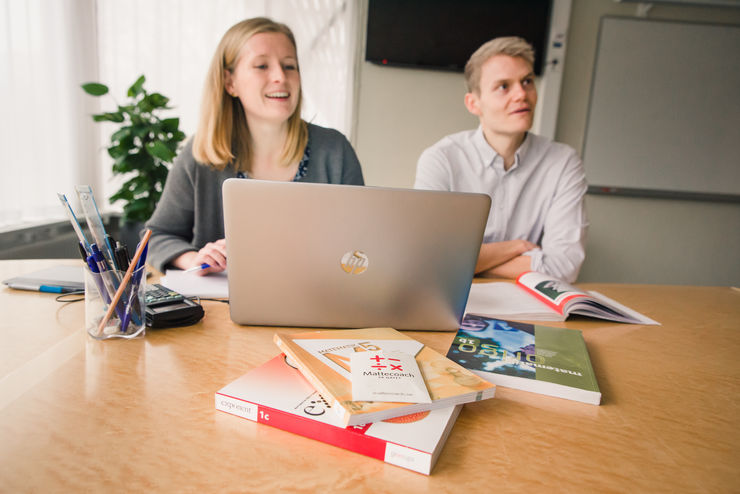 "What's most difficult is when someone says 'We have a test in the morning – can we go through the complete topic'. When that happens, you have to find somewhere to start. And of course we can't prepare in any way: the questions can be about anything", says Elin Svensson and Jakob Emanuelsson. Photo credit Anna Nilsen