Balamurugan Gunasekar, known as Bala, from India has been a student at Linköpings University for two years. He has been at the (Aeronautical Engineering) program and had a collaborative project supported by Sweden's Innovation Agency between LiU, SAAB and RISE on (Damage characterization of Composite-Metal bolted joints under static and cyclic loads) for his master thesis project. Some days ago, his work was rewarded with a 25.000 SEK stipendium from UTMIS for research in the fatigue domain.
Tell me bit about this project…
-The project was carried out during the spring of 2021 at the Engineering materials (KMAT) department at Linköpings University. I got the opportunity to work on this project through a recruiting process at IMA. This is a collaborative industrial project between SAAB, RISE and LiU.
-In this project we carried out some mechanical testing on hybrid bolted joints (CFRP-Al) produced by SAAB aeronautics in the university laboratory, we performed different types of tests like static, fatigue and spectrum with the help of RISE researchers. The aim was to investigate the damage initiation and propagation in these joints under different loading conditions using optical microscopy.
What did you think when you got the news about the stipendium?
-I got an e-mail about the reward, before that I did not have any idea I would get it, I was very happy and surprised. Then I called my supervisors (Mohamed Sahbi Loukil and Zlatan Kapidzic at LiU, and Mats Bergwall at RISE) to inform the news, as it could not be possible without their continued support and guidance.
-It has been a tough time during the pandemic, to keep the test going in the labs due to the restrictions imposed and organize the work. So, I am very honored by this reward and also think of it as a great appreciation for my hard work.
Why did you choose this subject?
-I chose the composites domain, it is something for the future, sustainable and very 'light'. It is something that can definitely reduce the weight of a vehicle, that will indeed reduce fuel consumption and decline the carbon emissions. I think sustainability is important and there is huge scope in the field of composites, so that is why I selected this subject to develop my career path.
Can you give advice to other that wants to come and study at LiU?
-I went to Linköping because Sweden has a very international society, English is a spoken language here and I also had got a scholarship at LiU. And I don't regret it, because Sweden is a very equal society, people here are very welcoming.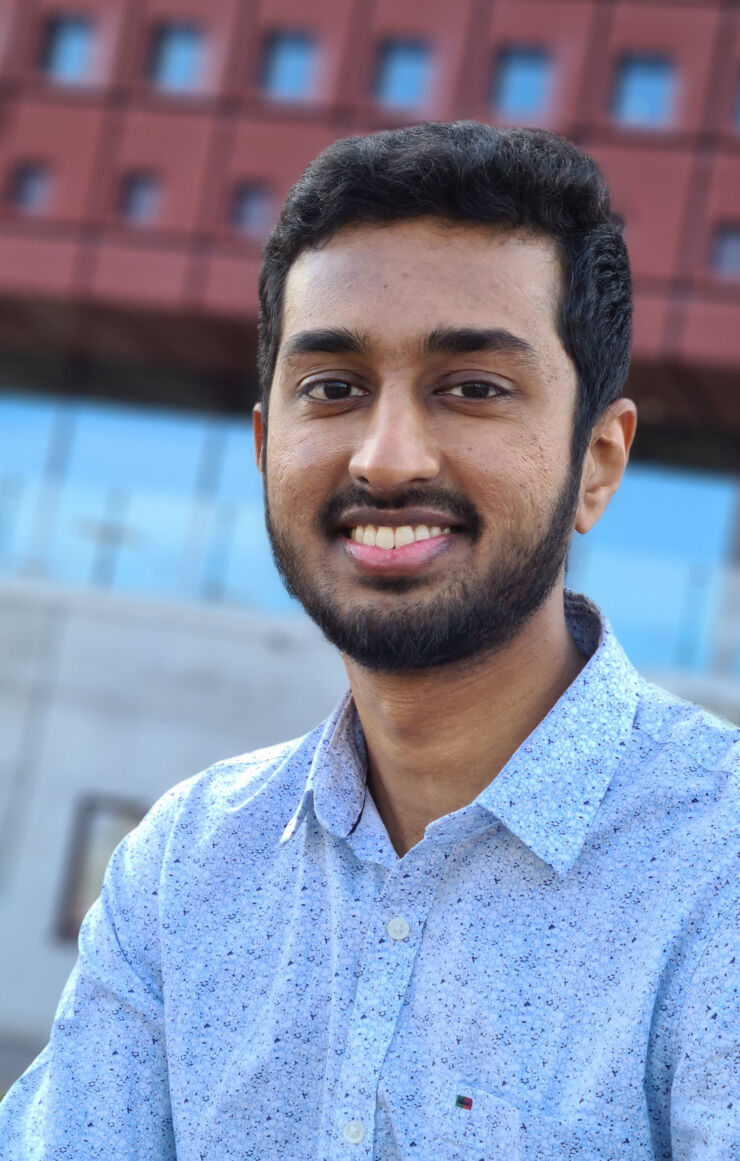 -I recommend every student coming here and try the Swedish lifestyle, it is something you should explore in your life, try to step out of your comfort zone! To study at Linköping University is very fascinating and new. I also got the chance to see the "northern lights" that was an amazing experience.
Bala finished his study in December 2021, and he is currently in his job search visa until the end of this year. He is actively looking for jobs in Sweden and open to opportunities.
What are your plans?
- I want to work in a company, maybe an aircraft industry or car industry or something sustainable. I want to continue my work in solid mechanics and composite materials. I want to learn more about light materials and their construction in a professional environment.
-Lightweight and recyclable materials like composite is the need of the hour to reduce the fuel and emission rates. Electrical car for example, require light material construction, then the battery can last longer if the isn't so heavy and carry more passengers. Sustainability combined with innovation is something that I believe is important for the future.