"I'm delighted to together with Caroline Brommesson take on the role of leading an organisation that I truly believe in", says Rozalyn Simon, senior lecturer. "Forum Scientium's main role is to support the members and help them make the most of their time at LiU. The members continue on to careers throughout the world in both the private sector and academia, and many stay in touch with each other, benefiting from the network and even life-long friendships."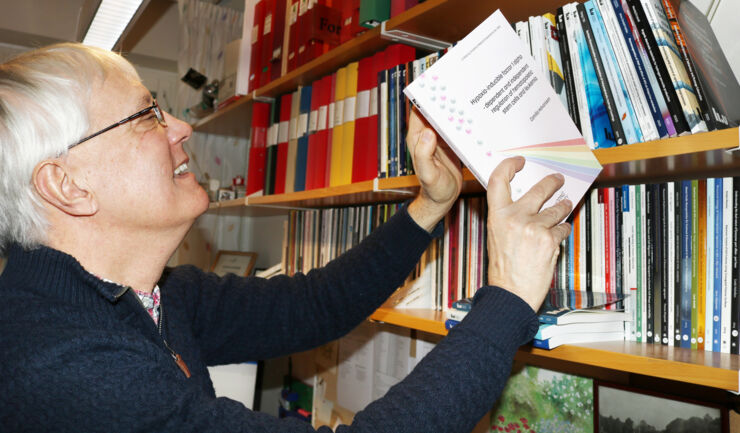 Stefan Klintström browsing his collection of Forum Scientium dissertations. He has a memory of each one over the years.
Photo credit

Ulrik Svedin
Both are alumna of the network, and in recent years have worked and conducted research with the students at Forum.
"I am very much looking forward to be part of Forum, it is such an inspiring and welcoming environment, and always with the members in focus" , says Caroline Brommesson.
Forum Scientium was founded in 1996, with funding from LiU and the Swedish Foundation for Strategic Research. One of the objectives was to propel more doctoral graduates to the Swedish industry sector, and to shorten the time required to complete the doctorate. The founders were Lars Ekedahl and Ingemar Lundström and LiU. For the past 20 years, Stefan Klintström and Charlotte Immerstrand has been one of the main drivers at Forum Scientium. Now he's handing over the leadership to Caroline Brommesson and Rozalyn Simon.
Forum Scientium has
a bright future

"Linköping University's multidisciplinary profile was crucial to the foundation's decision to invest here. LiU's early focus on thematic studies and research across discipline boundaries laid the foundation for the university's good reputation. Forum Scientium has a bright future", says Stefan Klintström and adds:
"A most important factor for the positive development of Forum Scientium has been the support from the faculties, all the members and the administration staff through the years."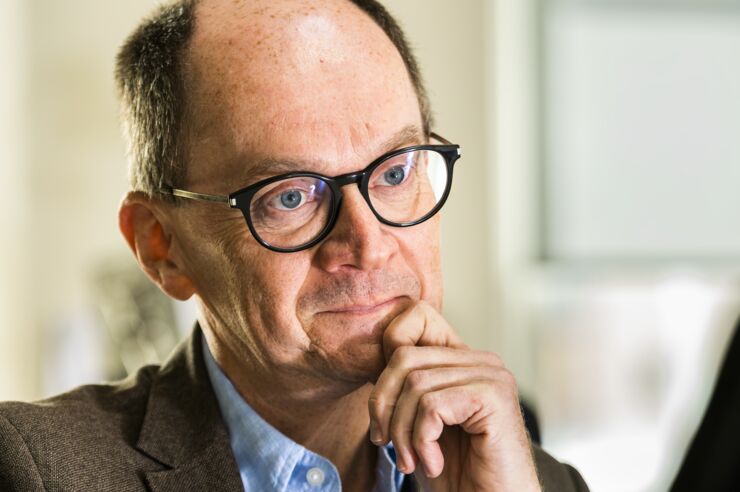 Vice Chancellor Jan-Ingvar Jönsson. Photo credit

Thor Balkhed
LiU's vice-chancellor Jan-Ingvar Jönsson has supervised doctoral students at the graduate school. He describes a dynamic environment:
"It offers good opportunities for career planning, as the doctoral students come in contact with employers and universities. They get a good overview of what it's like to be a researcher."
It's unusual that a graduate school is operational for as long as 25 years, says Jan-Ingvar Jönsson:
"Forum Scientium has adapted over time. Forum Scientium became a natural meeting-place for doctoral students and postdocs at Wallenberg Centre for Molecular Medicine (WCMM)."
How does the future look?
"I believe the Forum definitely has a future and that it can be integrated into LiU's strategic work, and can consequently have a place in our vision for 2030. It's important to connect, even more, the Faculty of Science and Engineering and the Faculty of Medicine and Health Sciences, and possibly also the Faculty of Arts and Sciences."
Daniel Aili is professor of biophysics, and also a Forum alumn. He interacts with Forum members every day:
"The network in Forum Scientium provides security for the members, giving them an opportunity to talk to people from outside their research group."
Professor Daniel Aili in the lab with PhD students Johanna Utterström and Sajjad Naeimipour. Photo: Ulrik Svedin
Right now, there are some 60 doctoral students and postdocs at five departments and three campuses. Forum Scientium gives them practice in important skills.
"They should be able to feel confident about communicating their research and be able to ask questions outside their own field. We expect the members to participate in activities. In exchange, they gain experience. A few have gone on to Harvard, Stanford, ETH Zurich and large private companies, partly thanks to the skills they've acquired here", says Rozalyn Simon.
International visits are part of Forum Scientium's networking, along with summer conferences, off-site conferences and monthly meetings. The agenda includes study visits to other universities and research-intensive companies.
Cambridge, Copenhagen, Singapore,
and Munich are a few of our previous destinations

"Cambridge, Copenhagen, Singapore, and Munich are a few of our previous destinations. Through our network we can set up meetings with professors, students, or private companies within the fields of choosing."
What changes do you plan for?
"We would like to establish permanent collaborations with other graduate schools around the world to extend our network. The multidisciplinary is at the heart of what makes LiU exceptional. It's when we collaborate that we make the biggest impact. Technology coupled with a clinical application gives our research context and meaning.
Forum Scientium
Endeavors to give
these doctoral students and postdocs the best possible opportunities in terms of courses, workshops, summer conferences, study visits and a large network.
The aim is that
research groups at the intersection between medicine, science and technology, learn about each others' projects and people, so well that the possibility for collaborations increases.
The organisation is positioned
for long-term operations, through support from LiU management, faculties and external sources.
Forum has a
student council for the members to influence and plan Forum activities.
In what is called
'the backpack', doctoral students receive SEK 10,000 per year, to be used e.g. to attend conferences of their own choosing.