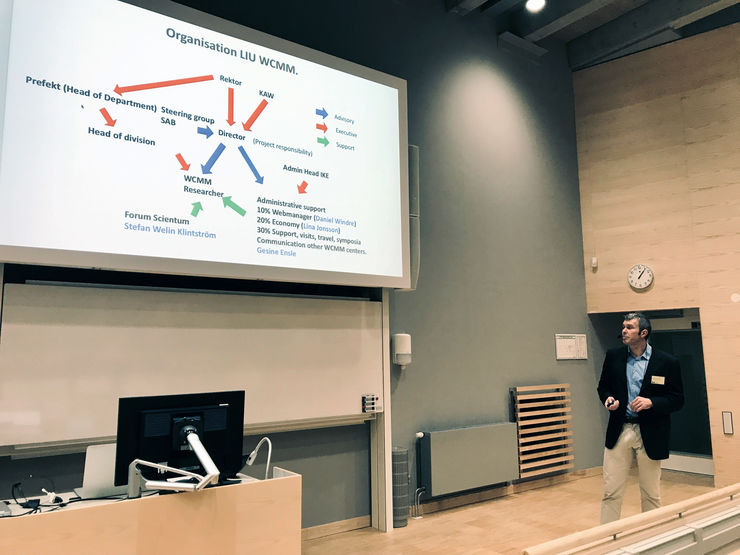 Mikael Sigvardsson, director at WCMMThe Wallenberg Centre for Molecular Medicine, WCMM, is a ten-year initiative in life science research in Sweden, financed by the Knut and Alice Wallenberg Foundation. The four WCMM centres in Sweden also collaborate closely with SciLifeLab in Stockholm. In Linköping, the WCMM aspires to closer collaboration with Region Östergötland, and chairman of the centre Mikael Sigvardsson emphasised how important it is that research has clinical relevance:
"We are working to recruit clinical researchers and strengthen our collaboration with Region Östergötland. Establishing strong clinical research within WCMM is one area of focus for 2019", said Mikael Sigvardsson at the opening of the symposium.
New imaging methods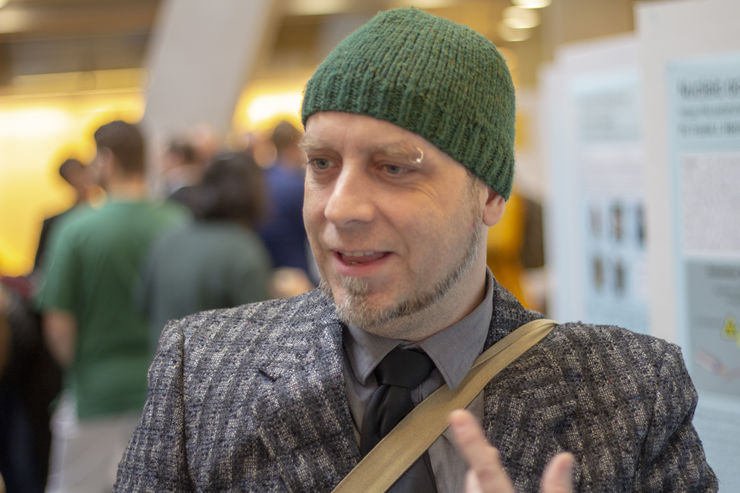 Rolf Saager is one of the WCMM fellows. He develops new spectroscopic methods where light and its absorption and scattering are used to image and analyze tissue, in this case the skin Photo credit Daniel WindreWCMM fellow Rolf Saager is one of the researchers recruited to work at the centre in Linköping, and is employed as senior lecturer in the Department of Biomedical Engineering at LiU. He is developing new spectroscopic methods in which light absorption and scattering are used to image and analyse tissue, in this case skin. The work can be applied in the visualisation and analysis of wound-healing, and of the skin in various diseases, such as melanoma. The aim of the research is to develop non-invasive methods that do not require samples to be taken, not only to image tissue but also to determine its composition. A further step will be to develop new treatments.
"There are also many applications in research, such as the imaging of small animals. By combining spectroscopy with structured illumination techniques, we can obtain more information than conventional imaging methods. We no longer just want to be able to locate a tumour in a laboratory animal, rather quantify its depth, composition, along with any structural changes in the tissue", says Rolf Saager.
Rolf Saager has a background in optics and physics, and places a high value on the close contact between WCMM fellows in Linköping.
"The WCMM fellows in Linköping are from different fields of research and have an amazing breadth of knowledge. This is a great benefit for one's own development as researcher, and I'm learning a great deal from the biologists! At the same time, I hope to be able to contribute unique methods that other fellows within the centre can benefit from", says Rolf Saager.
At the rate of expansion that the centre is undergoing, the monthly meeting of WCMM fellows and all new doctoral students and postdoc researchers must find larger premises each time it's held, Rolf Saager tells us.
"The collaboration really drives the projects, it is a group effort and the resources we have available make progress possible. It's valuable to work together with other young researchers and build a centre up from the bottom", says Rolf Saager.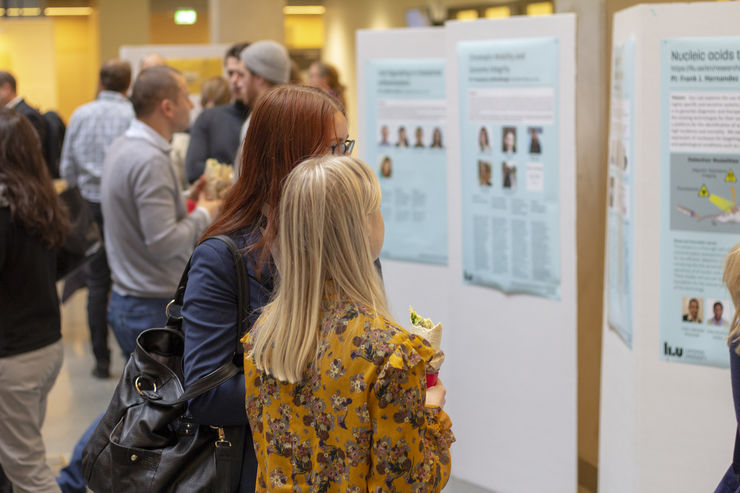 Lisa-Marie Erlandsson and Michelle Nilsson visited the poster exhibition during the WCMM Symposium 2018. Photo credit Daniel Windre
WCMM
Wallenberg Centres for Molecular Medicine have been created at four universities: Gothenburg, Lund, Linköping and Umeå. The WCMM in Linköping focuses on the border region between medicine and technology. The purpose of the initiative is to lift the life-science sector in Sweden, and the centres are part of a national plan for Sweden to regain a world-leading position within medical research.