As the supply of raw materials decreases, sustainable production is becoming increasingly important, and several methods to reuse products and material have come into focus. Remanufacturing is an industrial process in which products that have been in use are restored to a quality equivalent to new products. In some cases, it can even exceed the quality of new products. In the project "Automation för Reparation och Återtillverkning" (Automation for Repair and Remanufacture), researchers from LiU, Jönköping University and RISE have investigated the potential of automation in repair and remanufacturing. The project has developed virtual and physical automation solutions for selected steps at the companies.
"These solutions will be implemented and spread, so that more companies gain access to them", says Erik Sundin, professor in sustainable production at LiU's Department of Management and Engineering (IEI) and leader of the project.
Challenges with automation
The researchers have collaborated with manufacturing companies to identify challenges with automation and to demonstrate concrete measures. The companies that are participating in the project see a potential in introducing automation solutions that not only increase production efficiency but also improve the work environment by reducing the need to deal with hazardous substances. In addition, difficult or heavy disassembly or cleaning procedures for the products can be avoided.
"The first thing we did was to develop methods to identify the challenges with automation in repair and remanufacturing. Then we visited the four companies and discussed various challenges and what it is possible to solve with automation", Erik Sundin explains.
As the project progressed, the researchers examined the various steps in the remanufacturing processes used at the companies – inspection, cleaning, disassembly, repair, reassembly and testing. They concluded that the three steps most suitable for automation are cleaning, disassembly and reassembly.
Erik Sundin relates that the project identified many parts that are appropriate for automation. Automation can be used, for example, not only to empty and fill used toner cartridges, but also to clean them. It can also be used to destroy the harddisks of computers that are discarded.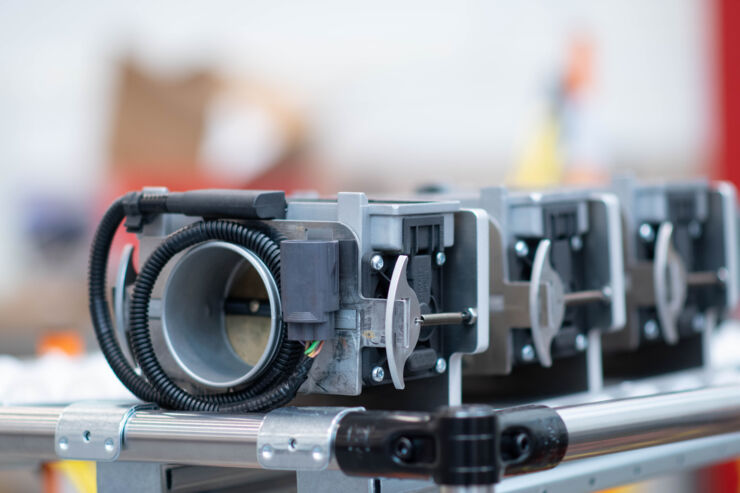 Photo credit Teiksma Buseva
"But what we at Linköping University thought was most interesting and suitable for automation in a robot cell was the sealing of a mechatronic car component that is used to control acceleration. Sealing is important to protect the electronic circuits inside the product. And we borrowed a robot from Yaskawa to implement the automation", says Erik Sundin.
Automatic sealing of a mechatronic component
The vehicle industry is highly material-focussed, and it depends on a finite supply of raw materials. The remanufacture or repair of a car component can be expensive, time-consuming and complicated, and the result may have limited durability.
Martin Hochwallner, senior lecturer in the Division of Product Realisation at IEI, together with engineering students, took the challenge on and solved the problem. They showed that it is possible to make the sealing of the component more efficient with the aid of automation.