During the network meeting, Linköping University was visited by ten university employees from Ukraine, Belarus and Estonia, who wanted to exchange knowledge about digital learning and digital tools. From LiU, there were 16 participants from the pedagogic centre Didacticum, the divisions of Political Science and Economics and from the International Affairs and Collaborations Division. The project, Embracing Digitalisation in the Academia, International Collaboration for Capacity Building and Innovation (EMDIAC) was started in 2021, with the aim of increasing knowledge of digitalisation in education, research and collaboration.
Digital tools are increasingly important
An important part of the project is to exchange experiences of digitalisation and the use of digital tools. For university workers in Ukraine, who are now almost exclusively engaged in digital education because of the current war, digital tools have become increasingly important.

"Digital tools are absolutely crucial in our work," explains Tetiana Kuvaieva, docent in marketing at Dnipro University of Technology in Ukraine.

"They are our means of surviving as a university and of safeguarding our programmes and education systems." Tetiana Kuvaieva further explains what teaching in a country that is at war involves. If an air-raid siren warns of an attack during a planned digital lecture, the teacher has to go to a bomb shelter.
"Our bomb shelters are equipped with good internet connections, so we teachers can continue our digital lectures in the bomb shelters. But if the students are unable to continue the lecture, the teacher adapts and records the lecture and puts it on the university's digital platform for students to access when they are in a protected place," explains Tetiana Kuvaieva.
Didacticum shares digital knowledge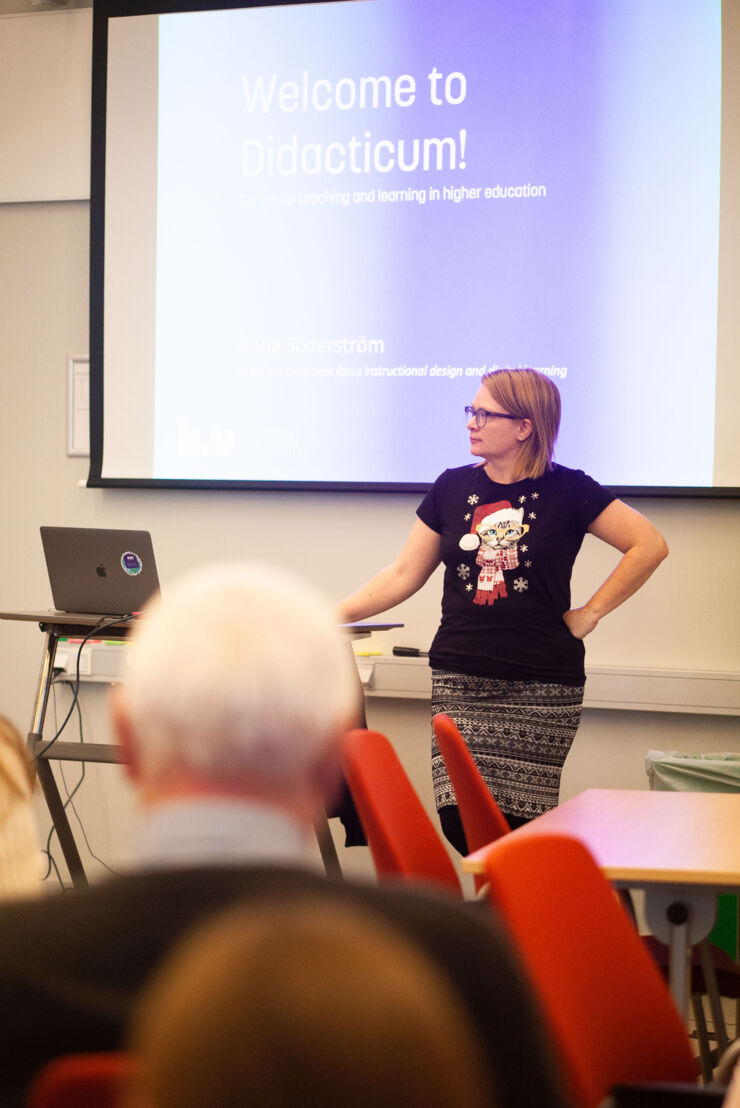 Anna Söderström welcomes the participants to Didacticum.
Photo credit

My Kronqvist
The network meeting agenda included presentations on LiU's evaluation tool Evaliuate, Flipped Classroom, hybrid teaching and digital learning at LiU. Several of the presentations were held by Didacticum staff, who play an important role in sharing knowledge about digital tools and working methods.

"During the network meeting, we at Didacticum have explained how we work with increasing the expertise of university teachers, but also how we work with digital learning," says Anna Söderström, who works as an educational developer with a focus on digital learning at Didacticum. Anna says that she thinks the network meeting is a way to share and support a country in crisis.

"The meetings we have had over the last few days have been very valuable. A way for us at LiU and Didacticum to give support from an academic perspective by providing knowledge and support to enable Ukraine to continue to provide education. Because education is a very important factor for democracy and confidence in the future in a society," says Anna Söderström.
Tetiana Kuvaieva also thinks that these have been valuable days and explains that she and her colleagues are planning to hold a webinar at their home university to share the lessons learned from the network meeting.
"I think it is important for the future that we share experiences between different universities. In the network, we can find new ways to solve our challenges," says Tetiana Kuvaieva.
Translation: Simon Phillips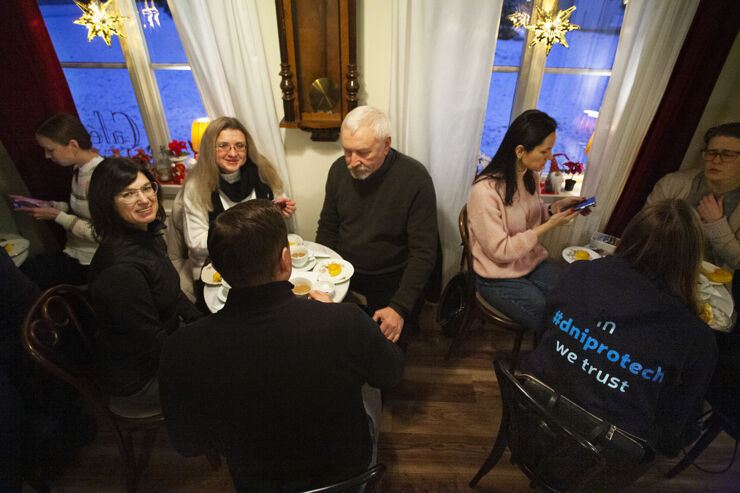 One participant wears a sweater with the print "In #dniprotech we trust" as a support for the ukrainan university, during a coffee break in old town of Linköping with Tetiana Mamatova and other participants. Photo credit My Kronqvist