From his previous post at the Chalmers University of Technology and Lindholmen, Magnus Blinge has watched transport research grow stronger in Linköping and Norrköping, not only at the university but also at its neighbour VTI – the Swedish National Road and Transport Research Institute. VTI is a strategic partner with LiU, which means that collaboration and joint doctoral students are common here, at least in some fields.
"There is a huge potential for more collaboration: the conditions for it are favourable but it is not something that can be imposed from on high. What's required is that people experience that collaboration benefits them", says Magnus Blinge.
Innovation programmes
He has been appointed adjunct professor working 30% of full time at LiU, initially to coordinate existing research within the transport field at LiU. Examples of such research can be found in logistics and quality development, where environmental logistics is a major interest; in vehicle systems, with deep technical knowledge of propulsion, battery technology and engine development; and in communication and transport systems, with a focus on optimisation and analysis of systems for logistics, transport and traffic.
"But there are other divisions at LiU working within the transport sector, and all are welcome to join the collaboration", says Magnus Blinge.
The first step was a seminar on 23 October at which the research groups presented their research to each other. Also present at the seminar was Christina Kvarnström, programme manager at Vinnova for the Strategic Vehicle Research and Innovation Programme (FFI)."The seminar was a huge success. We received a thorough summary of the exciting and high-quality research that is being conducted in the transport field at LiU. Christina Kvarnström also presented the opportunities to receive some of the nearly SEK 500 million per year that the government invests in vehicle research", says Magnus.
Collaboration with VTI
The next step will be to invite researchers from VTI and Region Östergötland into the collaboration.

"We have a coordinating body, with representatives from the region, VIT and LiU. Region Östergötland has designated efficient logistics and transport as an important area. So we will be taking the next step in December to survey the research groups in the region, and determine which type of research is strategically important", says Magnus Blinge. He is hoping eventually to establish a portal on the internet where transport research can be displayed and promoted to new heights.

He points out that there is a third area for collaboration that should receive attention.

"Researchers at LiU and VIT are also involved in one of the government's strategic research initiatives led by the Royal Institute of Technology: TRENoP - Transport Research Environment with Novel Perspectives. LiU plays only a small part here, but this collaboration must also be promoted, and clear research topics defined", he says.
Environmental logistics
Magnus Blinge has an imposing background in the field: his doctoral thesis discussed life-cycle analysis of fuel, and his early research concerned environmentally sensitive freight transport.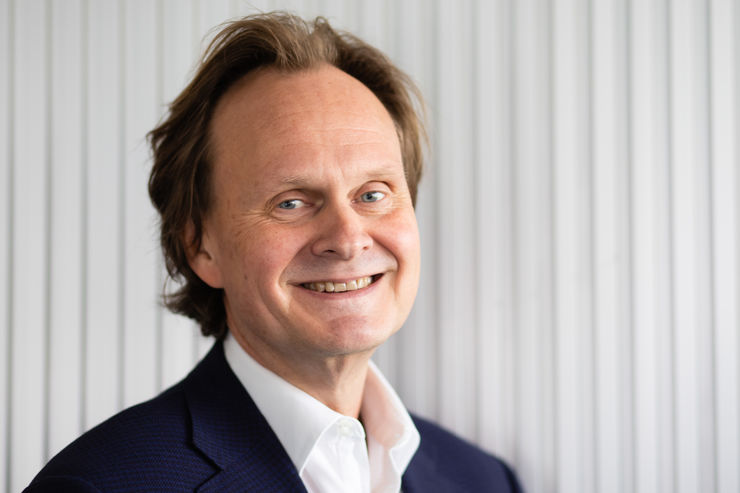 Photo credit Anna Nilsen
"It was then that I realised that while the fuel is an important component, it is not as significant as the fact that transport is inefficient and that many journeys take place with low fill rates. Some long journeys are even undertaken with empty vehicles."

His interest in logistics and its use in environmental research was awakened, and he has subsequently worked within transport at research institutes, Vinnova and, most recently, at the Chalmers University of Technology.

"When students become anxious about the climate, I usually point out that since the transport system is so poorly used at the moment, there are many cost-efficient measures that can be taken. There are many possibilities, but such measures must make commercial sense. At the moment, private companies such as IKEA and Axfood are taking the lead and pushing development. It seems that the companies that can take action with a long-term perspective, without worrying about quarterly profit, have achieved the most", he says.

His LiU employment as adjunct professor in environmental logistics is based in the Logistics and Quality Management Division, Campus Valla.
Inspiring environment
"I'm really looking forward to working in such an inspiring environment together with Mats Abrahamsson, Maria Huge-Brodin, Uni Sallnäs and Maria Björklund, true experts in environmental logistics", says Magnus Blinge.

And Maria-Huge Brodin is also the first professor of environmental logistics in Sweden, Europe and probably the world.

"That's true. I probably started to work in the field before her, but she has overtaken me", he laughs.

When Magnus Blinge now takes up his professorship at LiU, he is also leaving Lindholmen and the Chalmers University of Technology. The part of his working week not at LiU will be used to pilot Scania into the field of city logistics.

"Starting in November, I will be research coordinator in 'Sustainable and efficient urban logistics' at Scania. My task there is to accumulate knowledge about urban logistics and spread it through the organisation. For Scania, my adjunct professorship at LiU is an extra bonus."

Translation George Farrants